The launch of the latest game in the Fifa franchise is always hugely anticipated and with the new release just weeks away, snippets of information are being released to get fans even more excited.
The top 50 players are being counted down, and with 41-50 being unveiled today, there are already points for debate.
It seems that the boffins behind the game rate Juan Mata above Cesc Fabregas.
The Manchester United player is ranked 41st, whilst the summer arrival at Chelsea is down in 46th.
Some might be surprised by the ordering considering Mata was allowed to leave Chelsea, whilst Fabregas was brought in at Stamford Bridge and during his short spell back in the Premier League has been arguably the stand-out player.
FIFA 15: in pictures
FIFA 15: in pictures
1/22 FIFA 15

2/22 FIFA 15

3/22 FIFA 15

4/22 FIFA 15

5/22 FIFA 15

6/22 FIFA 15

7/22 FIFA 15

8/22 FIFA 15

9/22 FIFA 15

10/22 FIFA 15

11/22 FIFA 15

12/22 FIFA 15

13/22 FIFA 15

14/22 FIFA 15

15/22 FIFA 15

16/22 FIFA 15

17/22 FIFA 15

18/22 FIFA 15

19/22 FIFA 15

20/22 FIFA 15

21/22 FIFA 15

22/22 FIFA 15
Iker Casillas' fall from grace continues after his shocking World Cup performances. The Real Madrid stopper is ranked as the 47th best player, behind Tottenham goalkeeper Hugo Lloris who is at number 45.
To coincide with the release of the player rankings, Fifa makers EA Sports have also put out a video featuring a few players discussing how they are rated and it seems they take it rather seriously.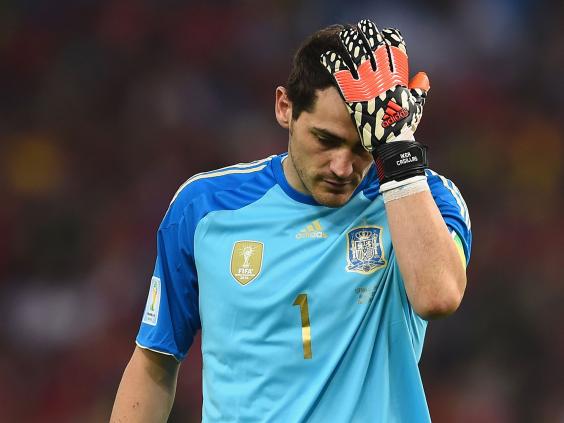 Rio Ferdinand even offers to come and talk to the makers of the game as he implores them: "Guys at Fifa if you are watching, can you actually put the real stats on the Manchester United players."
Meanwhile, Tottenham winger Andros Townsend says: "I'm not going to talk about my stats as I'm a bit disappointed to be honest."
Watch the video below...
Fifa 15 is released on September 26 in the UK.
Reuse content