Finally, the time is almost upon us again. After all those mindless, empty, soul-numbing days of summer, all those hours of pretending Andy Murray's quest for another Wimbledon title meant something, of convincing oneself of the merits of the Commonwealth Games – how many medals DID Germany get, exactly? – football is back. No, not that over-exposed flight of fancy that is the Premier League, I'm on about Fantasy Football. The real McCoy. The make-believe competition that brings many an office, playground or building site together every week for 10 months.
The crushing realisation that one is not going to make it as a professional sportsmen leads one to seek the nearest alternative possible. Managing your own fantasy team takes you as close as one can get without sitting in the dugout (barring an invite from Tim Sherwood, of course). You are in charge of a team of superstars, multi-million pound names that can be brought in and dropped at the click of your button. Luis Suarez? Pah, Cameron Jerome is due one this week. Kevin Nolan? Best years behind him, ditching him for Steven Pienaar will teach him a lesson. Testing your knowledge in this way against your mates brings a whole new competitiveness to work and school life, brightening up otherwise humdrum exchanges. Assembling that perfect squad and competing for money and bragging rights with peers.
Fantasy Football adds that competitive element to an office, bringing them closer together. Suddenly you have to know just why Cliff from accounts has brought in Ahmed Elmohamady over a Nacho Monreal who may have two matches that gameweek, what was Marcus thinking in picking Craig Gardner as captain, or exactly why Louise from features is keeping faith with Gabriel Agbonlahor, who hasn't scored since that night in (that's enough of that – Ed). Where once the weird Cornish man in the corner was ostracised, or the office Geordie struggled to join in with the conversation, now we have something to bring them altogether.
The biggest Premier League transfers 2014-15
The biggest Premier League transfers 2014-15
1/51 Alexis Sanchez - Barcelona to Arsenal (£35m)

Arsenal will look to their second most expensive signing in their history to fire them to a first Premier league title in 11 years

GETTY IMAGES

2/51 Mathieu Debuchy - Newcastle to Arsenal (£12m)

Arsenal unveiled new signing Mathieu Debuchy after completing a drawn out move for the French right-back to replace Bacary Sagna

Getty Images

3/51 Calum Chambers - Southampton to Arsenal (£16m)

Chambers has only made 18 Premier League starts in his relatively young career, but that's all it took to persuade Arsene Wenger to sign the 19-year-old as he became the fifth player to leave Saints for a reported £16m

Getty Images

4/51 Joe Cole - West Ham to Aston Villa (Free)

Joe Cole's time at West Ham came to an end after he agreed a free transfer to Premier League rivals Aston Villa

Getty Images

5/51 Philippe Senderos - Valencia to Aston Villa (Free)

The Swiss defender featured at the World Cup, having already confirmed his return to the Premier League with Villa

GETTY IMAGES

6/51 Diego Costa - Atletico Madrid to Chelsea (£32m)

After a fairly long pursuit, Chelsea completed the signing of La Liga winner Diego Costa from Atletico Madrid after triggering his £32m release clause

GETTY IMAGES

7/51 Cesc Fabregas - Barcelona to Chelsea (£30m)

Cesc Fabregas returned to England but not with his former club Arsenal, as the Spaniard joined the Blues in a £30m deal

chelseafc.com

8/51 Didier Drogba - Galatasaray to Chelsea (Free)

The Chelsea legend returned to his former home as he signed a new one-year deal, having been released by Turkish side Galatasaray at the end of the season.

Chelsea Football Club

9/51 Muhamed Besic - Ferencváros to Everton (£4m)

The defensive midfielder was quietly impressive for Bosnia in the World Cup, and returned to complete a £4m move to Merseyside

Getty Images

10/51 Romelu Lukaku - Chelsea to Everton (£28m)

Romelu Lukaku made his loan move to the Toffees permanent as he completed a club-record transfer for £28m

Twitter/@EvertonFC

11/51 Gareth Barry - Manchester City to Everton (Free)

Barry was another who turned a loan-move into a permanent one as he joined the Toffees following his release from Premier League champions City

Getty Images

12/51 Brendan Galloway - MK Dons to Everton (£4m)

The Toffees signed the teenage defender to a long-term five-year contract, with the hope that he will develop alongside John Stones to be the first-choice Everton centre-back partnership in the years to come

Twitter/@Everton

13/51 Jake Livermore - Tottenham to Hull (£8m)

You guessed it - another loan move-turned-permanent as Livermore left Spurs in an £8m to join the FA Cup finalists

Getty Images

14/51 Robert Snodgrass - Norwich to Hull (£7m)

Relegated Norwich allowed Robert Snodgrass to join Hull for an immediate return to the Premier League

PA

15/51 Tom Ince - Blackpool to Hull (Free)

Tom Ince was one of the most sought-after free agents on the market this summer, but despite reports of him joining Inter Milan, he agreed to move to Hull with Blackpool receiving a compensation fee

Getty Images

16/51 Matthew Upson - Brighton and Hove Albion to Leicester (Free)

Matthew Upson rejected the chance to stay with the Seagulls to have one more crack at the top flight

GETTY IMAGES

17/51 Marc Albrighton - Aston Villa to Leicester (Free)

Much was hoped from Albrighton at Villa, but his failure to push on has seen him join newly-promoted Leicester on a free transfer

GETTY IMAGES

18/51 Leonardo Ulloa - Brighton to Leicester (undisclosed)

Ulloa scored 25 goals in 52 appearances for Brighton since joining them from Spanish side Almeria in January 2013, enough to convince the Premier League newcomers to sign him up

PA

19/51 Rickie Lambert - Southampton to Liverpool (£4m)

Lambert agreed a move to his boyhood club Liverpool before heading to the World Cup with England

Getty Images

20/51 Adam Lallana - Southampton to Liverpool (£25m)

The Reds quickly followed up the move for Lambert with a hefty transfer for Saints skipper Lallana

Twitter/Liverpool FC

21/51 Lazar Markovic - Benfica to Liverpool (£20m)

Following the sale of Luis Suarez, Liverpool invested nearly a third of the £75m in 20-year-old Lazar Markovic

Getty Images

22/51 Emre Can - Bayer Leverkusen to Liverpool (£9.5m)

The Reds added Bayer Leverksuen ace Emre Can at the beginning of the summer

Twitter/Liverpool FC

23/51 Dejan Lovren - Southampton to Liverpool (£20m)

Lovren followed Lallana and Lambert in moving to Anfield after he finally got the move that he was pushing for. Having featured at the World Cup for Croatia, much is expected of the centre-back in order to solidify the Reds' defence

Getty Images

24/51 Fernando - Porto to Manchester City (£12m)

Manchester City's largest piece of transfer business so far this summer is the £12m addition of Fernando, who was a January target for Manuel Pellegrini

Getty Images

25/51 Bacary Sagna - Arsenal to Manchester City (Free)

Bacary Sagna may have ended his Arsenal career on a high note, but he won't get a warm welcome when he returns to the Emirates after he joined City for nothing

Getty Images

26/51 Willy Caballero - Malaga to Manchester City (£6m)

Pellegrini tapped into his former club Malaga to lure goalkeeper Willy Caballero to the Etihad

Manchester City FC

27/51 Eliaquim Mangala - Porto to Manchester City (£32m)

Atheltic, composed French defender should slot into City's starting XI after completing a reported £32m move from Porto

GETTY IMAGES

28/51 Ander Herrera - Athletic Madrid to Manchester United - (£28.5m)

The first player to join United's squad revamp, Herrera was a failed target last year, but paid his own release clause in order to secure a move to Old Trafford

GETTY IMAGES

29/51 Luke Shaw - Southampton to Manchester United (£30m)

Despite just one full season in the Premier League and a handful of England caps, Louis van Gaal sanctioned the record-breaking move for Shaw after the World Cup

Getty Images

30/51 Siem de Jong - Ajax to Newcastle (£6m)

Newcastle ended their transfer exile by brining in former Ajax captain De Jong

Getty Images

31/51 Emmanuel Riviere - Monaco to Newcastle (£6m)

Newcastle completed the £6m signing of Monaco forward Riviere to continue their influx of French players at St James' Park

Twitter/@NUFC

32/51 Daryl Janmaat - Feyenoord to Newcastle (£5m)

Daryl Janmaat agreed to join the Magpies in order to replace the departed Frenchman Mathieu Debuchy

Getty images

33/51 Remy Cabella - Montpellier to Newcastle (£12m)

Remy Cabella left Montpellier to complete a £12m switch to the north-east

Getty Images

34/51 Rio Ferdinand - Manchester United to QPR (Free)

Rio Ferdinand turned down 'lucrative offers' to remain in the Premier League with promoted QPR

Twitter/@QPRFC

35/51 Stephen Caulker - Cardiff City to QPR (undisclosed)

The 22-year-old centre-back was brought in after spending just a year with relegated Cardiff City. He will line-up alongside other new recruit Rio Ferdinand

Getty

36/51 Dusan Tadic - FC Twente to Southampton (10.9m)

Dusan Tadic became Southampton's first signing under new manager Ronald Koeman

GETTY IMAGES

37/51 Shane Long - Hull to Southampton (£12m)

Long completed a move to his third club of 2014 after agreeing a £12m move to the south coast as Southampton look to rebuild their squad after their summer depletion.

Twitter/@SouthamptonFC

38/51 Mame Biram Diouf - Hannover to Stoke (Free)

Mame Biram Diouf returned to the Premier League after a spell in Germany, as Stoke secured the former Manchester United striker

Getty Images

39/51 Phil Bardsley - Sunderland to Stoke (Free)

The controversial character move south to join Stoke on a free transfer

40/51 Steve Sidwell - Fulham to Stoke (Free)

Steve Sidwell was released by Fulham following their relegation last season, and the well-travelled midfielder elected to join Stoke in an instant return to the Premier League

Getty Images

41/51 Jordi Gomez - Wigan to Sunderland (Free)

The FA Cup winner left the Championship club in order to head north to join Sunderland

Getty Images

42/51 Costel Pantilimon - Manchester City to Sunderland (Free)

After three years with Manchester City, Pantilimon headed to Sunderland to try and resurrect his first-team career

43/51 Lukasz Fabianski - Arsenal to Swansea (Free)

Having lifted the FA Cup trophy in his final appearance for the Gunners, Fabianski headed to Wales to join Swansea and rival Michel Vorm for the starting berth

Getty Images

44/51 Bafetimbi Gomis - Lyon to Swansea (Free)

Bafetimbi Gomis has long been linked with a move to the Premier League, and he finally got his wish when he left Lyon to join the Swans

GETTY IMAGES

45/51 Jefferson Montero - Morella to Swansea (Undisclosed)

Ecuador international Jefferson Montero has completed a move to the Liberty Stadium after his participation at the World Cup, joining from Mexican side Morella

Getty Images

46/51 Gylfi Sigurdsson - Tottenham to Swansea (Swap)

Gylfi Sigurdsson returned to Swansea after two years with Tottenham, completing a swap deal with left-back Ben Davies

Getty Images

47/51 Ben Davies - Swansea to Tottenham (Swap)

Ben Davies joined Tottenham from Swansea in a swap deal involving Gylfi Sigurdsson, and the left-back looks set to be first-choice at White Hart Lane under Mauricio Pochettino

Getty Images

48/51 Eric Dier - Sporting Lisbon to Tottenham (£4m)

Eric Dier returned to the UK after 14 years in Portugal, with the defender spening his youth career with Sporting Lisbon

Twitter/@Spursofficial

49/51 Joleon Lescott - Manchester City to West Brom (Free)

After finding himself out of Manuel Pellegrini's plans, Lescott moved on from the Premier League champions in order to join West Brom

GETTY IMAGES

50/51 Craig Gardner - Sunderland to West Brom (Free)

Craig Gardner left Sunderland after last season's near-miss with relegation in order to join the Baggies

Getty Images

51/51 Mauro Zarate - Velez Sarsfield to West Ham (Undisclosed)

The once high-rated Argentinian joined the Hammers after a brief spell back in his homeland

GETTY IMAGES
I have run the office Fantasy Football competition on our sports desk for the past seven years and, I can not lie, it has often been one of the best parts of my job. I delighted in the power I could wield with my weekly updates, with the supposed footy statto's often found languishing near the bottom and the fly-by-nights sitting pretty at the top. The draft picks every summer quickly became an office tradition – the whole desk waiting to digest and dissect each and every pick, and work out just who they were going to opt for now that David Nugent had been taken, off limits for another year..
Of course, given my immense footballing knowledge, I only went and won the competition in the 2008/09 season. Rumours quickly abounded that I had somehow fixed the scoring – scurrilous rumours that to this day I detest. It was Andrei Arshavin's four goals at Anfield in a rearranged match that swung it my way.
World Cup fantasy football filled a gap over the summer months but it's not the Premier League, is it? Who needs Brazil and Argentina, when you have Burnley and Aston Villa? There's nothing quite like that thrill of picking a Ricky van Wolfswinkel and having him when he scores HIS ONLY BLOODY GOAL all season, or transferring in that West Ham centre-back before everyone else had cottoned on this points potential (James Collins, I'm talking about you).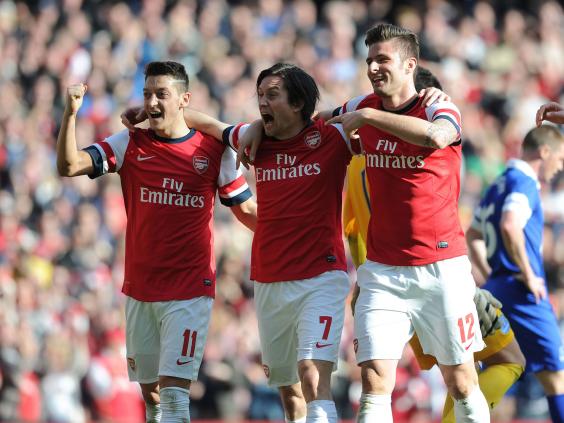 Such is the hold it takes over you and your life that it can even leave you feeling not so bad when your team loses or a certain player scores against your team. I have lost count of coming away from a Tottenham match feeling disgusted for attempting to subconsciously reason with myself that a loss to a certain team didn't matter so much because a player from my fantasy team was the one that had done the damage. Standing there in the stands I have often hated myself after momentarily delighting in the fact that it was one of my fantasy players scoring against my real-life team. How could I? WHAT HAS THIS GAME DONE TO ME?
Fantasy football immerses, absorbs, takes over your whole weekend. Where once you had time for a walk in the park amongst the leaves, or had a spare few minutes to take the missus shopping, now your Saturday morning is taken up with that last minute worry over whether or not to go with three at the back, or bring in that Newcastle forward who has an easier match. And the weekly transfer deadline is not the end of it – oh no, not by a long chalk. This game dictates your whole weekend. As the goals go in, it's not what does it mean for your actual team, it's more how that strike ruins Joleon Lescott's clean sheet, or takes away from the Julian Speroni bonus points that your brother was so relying on. And then there's the interminable wait for the bonus points to be added – at least in the version that I play. What a way to make or break one's Saturday night. And what of the shameful walk back into work after a bad weekend, or the added spring in your step that a Demba Ba hat-trick could give you and no-one else.
It is not just work-places and schoolyards that the game can bring together – families can also be reconnected across a keenly/bitterly contested Fantasy League. Sensing the competitiveness that my brother and I delighted in battling, cross-country, every weekend, my mother was keen to get involved. I am pleased to say I finished above her last season (if I have to explain who Vincent Kompany plays for one more time…), although the less said about my sister-in-law's surprising second place finish the better – I'm sure my brother was picking her team for the last few gameweeks.. how else would she know about Dwight Gayle?!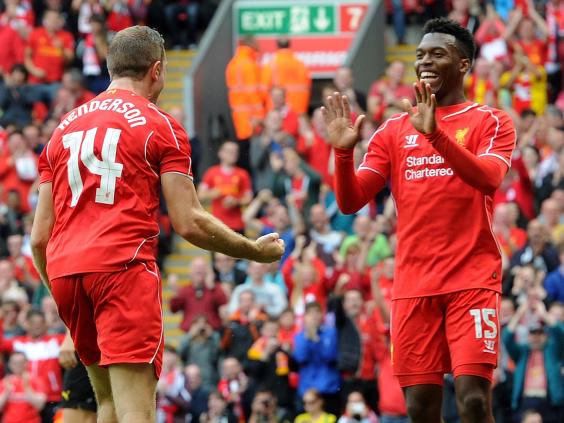 One tip is to keep your eye on the rearranged matches, which are particularly more prominent from Christmas and towards the end of the season, when Cup replays and the weather can decimate league programmes. Some websites' rules can differ, but you will often end up with some teams playing twice or even three times in a week, rendering their players a lot more valuable than someone playing just once or not at all. I'm shaking my head at the seeming obviousness of this, but you would be surprised at the amount of competitors who overlook this quirk/have fallen out of interest with the game by the time February or March rolls around.
Picking a captain is another crucial part of your team-choosing – which player are you so confident of doing well that you want his points doubled? Where once this would be a nailed on Cristiano Ronaldo or Frank Lampard, last season it was more Leighton Baines or Yaya Toure that came into their own – someone who would always play but also took their teams penalties, was always in the running for bonus points and popped up with their fair share of assists.
Now, enough of this chatter, does anyone know any players worth having from the QPR v Hull match this weekend? I was thinking Charlie Austin, but Hull's defence was looking impressive during that Cup run at the end of last season…