With Football Manager 2015 set for release on 7 November, Sports Interactive have released a Beta version for fans and reviewers alike to get a taste of what to expect from the latest instalment of the favoured football sim of choice the world over.
Before breaking down the finer details of what is essentially a demo, it's worth stating that a number of current issues will be addressed in the full version upon its release, and this is very much a work in progress until Friday's unveiling.
With that out of the way, let's get down to business.
Once you're set-up and ready to go – frequent investors in the game will have no trouble with installing it, creating your manager and beginning a career – you'll come to a much changed interface that you'll rely on to provide everything and more throughout your managing career.
The changes are quite drastic, with the main toolbar that for years has been at the top of the screen being moved to the left. It offers more depth, looks a bit more robust and clearer and to be honest, I'm a fan of the switch. It makes dealing with the day-to-day tasks of changing tactics, scouting players, negotiating tactics and the likes much easier and will cut down on the time spent looking for certain pages.
That said, the time saved on searching will be spent of team selection. In the past this has been made easy by simply right-clicking on a player to select him in the first available position. This no longer appears to work, and instead you can either drag the player into the desired position or select him from an over-complicated dropdown box.
I'm not sure why this would be removed having been a part of the game for as long as I can remember, so hopefully the full version will allow a quicker selection process.
30 games released before Christmas
30 games released before Christmas
1/30 Destiny

The $500 million 'shared-world shooter' from Bungie has arrived. Release date: 9th September 2014

2/30 Hyrule Warriors

The first of a few big upcoming releases for the Wii U, Hyrule Warriors will see Link hack-and-slashing in Hyrule. Expect a closer likening to Dynasty Warriors rather than a typical Zelda game. Release date: 19th September 2014

3/30 The Vanishing of Ethan Carter

The open world adventure which follows a detective with paranormal powers used to solve crimes promises suspense, mystery - and gorgeous graphics. Release date: 25th September 2014

4/30 FIFA 15

The best-selling sports video game franchise in the world is set to return with Lionel Messi as the cover star, all 20 Premier League stadiums and scarily lifelike players. Release date: 26th September 2014

5/30 Forza Horizon 2

Exclusive to Xbox One and 360, racing fans will get to see the roads of southern Europe – with three times more driveable areas than the 2012 original. Release date: 3rd October 2014

6/30 Super Smash Bros

Coming first to the 3DS, players will be able to smash the shell out of Nintendo characters such as Yoshi, Link, Fox, Mario, Mega Man, Pac-Man, Pikachu, Fox, Peach and Donkey Kong. Release date: 3rd October 2014

7/30 Sherlock Holmes: Crimes & Punishments

The UK's favourite detective takes a Dostoyevsky turn, as he must make moral choices when he finds the culprits. Release date: 3rd October 2014

8/30 Alien: Isolation

There's no doubt about it, this looks really scary. Set in 2137, 15 years after the events of Alien and 42 years prior to Aliens, the game follows Amanda, who is investigating the disappearance of her mother Ellen Ripley. Release date: 7th October 2014

9/30 Project Spark

For creative minds, Xbox's Project Spark offers players a blank canvas to draw on content to make events, games and music. Release date: 7th October 2014

10/30 NBA 2K15

2K Sports aim to make their new basketball release more authentic than ever. With Kevin Durant of the Oklahoma City Thunder as the cover star, Crew mode will be coming back, and MY League introduced. Release date: 7th October 2014

11/30 NBA Live 15

Up against NBA 2K15 on the same day is this basketball title from EA Sports, who scanned 70% of NBA players for added realism. Release date: 7th October 2014

12/30 Driveclub

Exclusive to PS4, this racing release will see top speeds and atmospheric conditions - plus PlayStation Plus subscribers will get a free version. Release date: 10th October 2014

13/30 Skylanders Trap Team

The third release from the ridiculously popular-with-kids franchise will include traps where players can catch the bad guys and play as them. Release date: 10th October 2014

14/30 The Evil Within

In our preview, it's been described as 'a survival horror fan's best worst nightmare'. Release date: 17th October 2014

15/30 Borderlands: The Pre-Sequel!

The third game in the Borderlands series, and a prequel to the 2012 game Borderlands 2, and will see new weapons such as anti-gravity, freeze, and oxygen tanks. Release date: 17th October 2014

16/30 F1 2014

Based on the 2014 Formula One season, this racing game from Codemasters will feature the new Sochi Autodrom. Release date: 17th October 2014

17/30 Disney Infinity: Marvel Super Heroes

The other popular toys to life series will see superheroes join the team, including Spider-Man, Captain America and Iron Man. Release date: 18th October 2014

18/30 Fantasia: Music Evolved

Based on the music from Walt Disney's 1940 animated film, your body will control the rhythm and sounds. Release date: 21st October 2014

19/30 Bayonetta 2

The sequel to Nintendo's 2009 game sees Bayonetta battling the bad guys with smart combat and sharp graphics. Release date: 24th October 2014

20/30 Sunset Overdrive

The colourful comic style offering exclusive to Xbox One combines the feel of Sum 41/Tony Hawk with a random mix of mutants and energy drinks. Release date: 31st October, 2014

21/30 WWE 2K15

Sting, Hulk Hogan and Stone Cold Steve Austin will appear in the next wrestling saga, which will next have story mode My Career. Release date: 31st October, 2014

22/30 Call of Duty: Advanced Warfare

The 11 year-old military first person shooter series is about to become more futuristic, with characters that look more realistic than ever - plus, Kevin Spacey stars as the bad guy. The downloadable content for will be released first on Xbox Live. Release date: 4th November 2014

23/30 World of Warcraft: Warlords of Draenor

The fifth expansion to MMORPG World of Warcraft will will raise the existing level cap from 90 to 100 and will introduce player-built, upgradeable garrisons - plus a tribute character to Robin Williams. Release date: 13th November 2014

24/30 Halo: The Master Chief Collection

Consisting of Halo: Combat Evolved Anniversary, Halo 2, Halo 3, and Halo 4, this is obviously one for Halo super fans. Players will also get access to Halo 5: Guardians beta. Release date: 14th November 2014

25/30 Assassin's Creed: Unity

Set in Paris during the French Revolution, for the first time, four players can take on missions in multiplayer co-op, and there's also a new stealth option, which contrasts well with the fluid movement of the deadly Assassin. Release date: 15th November 2014

26/30 Far Cry 4

Set in a region of the Himalayas, you get to ride on an elephant with weapons, and invite friends to join you to play via PlayStation Plus, even if they don't own the game. Release date: 18th November 2014

27/30 Little Big Planet 3

Sackboy's got some new friends this time round in PlayStation's puzzle platformer, each with different skills opening up a range of different, and cute, challenges. Release date: 19th November 2014

28/30 Dragon Age: Inquisition

Bioware's RPG sequel to Dragon Age 2 will let players explore more than ever before - and there are several different major endings depending on your decisions in the game. Release date: 21st November 2014

29/30 Sonic Boom: Rise of Lyric and Sonic Boom: Shattered Crystal

The latest outing for everyone's favourite hedgehog sees the first released on the Wii U, and the second for the 3DS. The two games form the final part in Sega's partnership with Nintendo, following Sonic Lost World and Mario & Sonic at the Sochi 2014 Olympic Winter Games. Release date: 21st November 2014

30/30 Pokémon Omega Ruby and Alpha Sapphire

The 3DS remakes of the 2002 Game Boy Advance titles Pokémon Ruby and Sapphire will be a must-have for Pokefans. Release date: 28th November 2014
Back to the positive points, the in-game play looks much cleaner yet includes more detail, which is a tricky one to master. A manager can now alter advanced tactics by using the 'shout instructions' button which has much more options available, and the 'quick substitutions' allows positional and role changes which has always been a nagging unavailability since the option was introduced.
The visual aspects of the game looks much more impressive too, with players on your team resembling the real life character much more than the colourful blocks that they have in the past. The AI still needs a bit of work, but we've been assured this is part of the full version, and the fact that little flicks, intricate passes and back-heels are shown in much more detail is definitely a bonus.
The gameplay experience is something to get used to. As is tradition, I started my first career with Arsenal as to get a gage of the different changes and make a comparison to the previous incarnation, and this included the intra-squad friendly that we all know about. It ended 8-7 to the first team, and suddenly alarm bells are ringing that goalkeepers have been left off the game altogether.
Sports Interactive have said that goalkeepers – especially in the lower leagues – are not yet up to standard and an unusual number of own-goals and missed back-passes will be seen on the Beta version. I wasn't sure this was the case, until Wojciech Szczesny struck a goal kick straight into the back of Per Mertesacker and the ball looped over the Poles head and into the net. Houston, we have a problem.
There are an unusually high number of goals, but hopefully the full version update will rectify this, otherwise there could be a rapid increase in Football Manager-related heart attacks this year.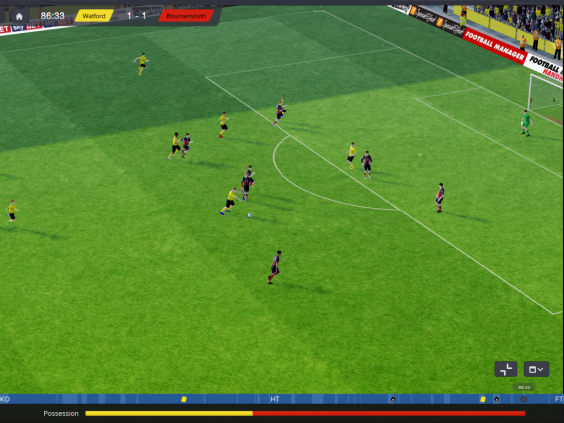 Going back to sections of the game away from the pitch, there has been definite progress in this year's incarnation. The transfer centre is now solely for incoming and outgoing transfers, loans and targets, meaning that all the confusing scouting information has been moved to the right section – scouting. It's here that you'll find a much clearer list of all of your scouts and their current assignments, and the scouting update email is much easier to understand as well as more in-depth should you wish to scroll through it.
The Beta version is a nice taster providing the glitches can be ironed out – the biggest annoyance is the absence of official club crests, shirts and player picture, although this usually isn't a problem in the full version – and it suggests that Football Manager 2015 will be the best instalment yet one of the biggest running game series.
Football Manager 2015 is released on 7 November