The opening titles to Forza Horizon 2 are a risky bet. They feel like a Nikon advert, with cool music running over cutscenes and the type of voiceover that uses the word living as if it has two separate meanings. It could so easily become conceited and dull, a desperate pull to people who said YOLO for far too long, but the developers make them work.
They work because they go with the rest of the game. The premise that you're driving around the coastal roads of France and Italy in flash modern and classic cars doing the odd race or challenge, the new Bucket List feature – where celebrated cars are dotted around the map for you to take up different challenges with - you can imagine the whole thing being a music video.
Graphics buzzwords are banded around everywhere but with Forza you can see they've put it where it counts, the maps are recreations of real scenic roads around the Mediterranean, as the developers put it – "a lot of our work is done for us."
These aren't the only features the new game's bringing along: the usual skill points adding to the cash and experience you gather while playing and the Horizon Wheel Spin – every time you level-up you get the chance to spin a wheel of prizes, usually you win extra cash to spend on upgrades and paint jobs but now and then the lucky ones get a new car.
30 games released before Christmas
30 games released before Christmas
1/30 Destiny

The $500 million 'shared-world shooter' from Bungie has arrived. Release date: 9th September 2014

2/30 Hyrule Warriors

The first of a few big upcoming releases for the Wii U, Hyrule Warriors will see Link hack-and-slashing in Hyrule. Expect a closer likening to Dynasty Warriors rather than a typical Zelda game. Release date: 19th September 2014

3/30 The Vanishing of Ethan Carter

The open world adventure which follows a detective with paranormal powers used to solve crimes promises suspense, mystery - and gorgeous graphics. Release date: 25th September 2014

4/30 FIFA 15

The best-selling sports video game franchise in the world is set to return with Lionel Messi as the cover star, all 20 Premier League stadiums and scarily lifelike players. Release date: 26th September 2014

5/30 Forza Horizon 2

Exclusive to Xbox One and 360, racing fans will get to see the roads of southern Europe – with three times more driveable areas than the 2012 original. Release date: 3rd October 2014

6/30 Super Smash Bros

Coming first to the 3DS, players will be able to smash the shell out of Nintendo characters such as Yoshi, Link, Fox, Mario, Mega Man, Pac-Man, Pikachu, Fox, Peach and Donkey Kong. Release date: 3rd October 2014

7/30 Sherlock Holmes: Crimes & Punishments

The UK's favourite detective takes a Dostoyevsky turn, as he must make moral choices when he finds the culprits. Release date: 3rd October 2014

8/30 Alien: Isolation

There's no doubt about it, this looks really scary. Set in 2137, 15 years after the events of Alien and 42 years prior to Aliens, the game follows Amanda, who is investigating the disappearance of her mother Ellen Ripley. Release date: 7th October 2014

9/30 Project Spark

For creative minds, Xbox's Project Spark offers players a blank canvas to draw on content to make events, games and music. Release date: 7th October 2014

10/30 NBA 2K15

2K Sports aim to make their new basketball release more authentic than ever. With Kevin Durant of the Oklahoma City Thunder as the cover star, Crew mode will be coming back, and MY League introduced. Release date: 7th October 2014

11/30 NBA Live 15

Up against NBA 2K15 on the same day is this basketball title from EA Sports, who scanned 70% of NBA players for added realism. Release date: 7th October 2014

12/30 Driveclub

Exclusive to PS4, this racing release will see top speeds and atmospheric conditions - plus PlayStation Plus subscribers will get a free version. Release date: 10th October 2014

13/30 Skylanders Trap Team

The third release from the ridiculously popular-with-kids franchise will include traps where players can catch the bad guys and play as them. Release date: 10th October 2014

14/30 The Evil Within

In our preview, it's been described as 'a survival horror fan's best worst nightmare'. Release date: 17th October 2014

15/30 Borderlands: The Pre-Sequel!

The third game in the Borderlands series, and a prequel to the 2012 game Borderlands 2, and will see new weapons such as anti-gravity, freeze, and oxygen tanks. Release date: 17th October 2014

16/30 F1 2014

Based on the 2014 Formula One season, this racing game from Codemasters will feature the new Sochi Autodrom. Release date: 17th October 2014

17/30 Disney Infinity: Marvel Super Heroes

The other popular toys to life series will see superheroes join the team, including Spider-Man, Captain America and Iron Man. Release date: 18th October 2014

18/30 Fantasia: Music Evolved

Based on the music from Walt Disney's 1940 animated film, your body will control the rhythm and sounds. Release date: 21st October 2014

19/30 Bayonetta 2

The sequel to Nintendo's 2009 game sees Bayonetta battling the bad guys with smart combat and sharp graphics. Release date: 24th October 2014

20/30 Sunset Overdrive

The colourful comic style offering exclusive to Xbox One combines the feel of Sum 41/Tony Hawk with a random mix of mutants and energy drinks. Release date: 31st October, 2014

21/30 WWE 2K15

Sting, Hulk Hogan and Stone Cold Steve Austin will appear in the next wrestling saga, which will next have story mode My Career. Release date: 31st October, 2014

22/30 Call of Duty: Advanced Warfare

The 11 year-old military first person shooter series is about to become more futuristic, with characters that look more realistic than ever - plus, Kevin Spacey stars as the bad guy. The downloadable content for will be released first on Xbox Live. Release date: 4th November 2014

23/30 World of Warcraft: Warlords of Draenor

The fifth expansion to MMORPG World of Warcraft will will raise the existing level cap from 90 to 100 and will introduce player-built, upgradeable garrisons - plus a tribute character to Robin Williams. Release date: 13th November 2014

24/30 Halo: The Master Chief Collection

Consisting of Halo: Combat Evolved Anniversary, Halo 2, Halo 3, and Halo 4, this is obviously one for Halo super fans. Players will also get access to Halo 5: Guardians beta. Release date: 14th November 2014

25/30 Assassin's Creed: Unity

Set in Paris during the French Revolution, for the first time, four players can take on missions in multiplayer co-op, and there's also a new stealth option, which contrasts well with the fluid movement of the deadly Assassin. Release date: 15th November 2014

26/30 Far Cry 4

Set in a region of the Himalayas, you get to ride on an elephant with weapons, and invite friends to join you to play via PlayStation Plus, even if they don't own the game. Release date: 18th November 2014

27/30 Little Big Planet 3

Sackboy's got some new friends this time round in PlayStation's puzzle platformer, each with different skills opening up a range of different, and cute, challenges. Release date: 19th November 2014

28/30 Dragon Age: Inquisition

Bioware's RPG sequel to Dragon Age 2 will let players explore more than ever before - and there are several different major endings depending on your decisions in the game. Release date: 21st November 2014

29/30 Sonic Boom: Rise of Lyric and Sonic Boom: Shattered Crystal

The latest outing for everyone's favourite hedgehog sees the first released on the Wii U, and the second for the 3DS. The two games form the final part in Sega's partnership with Nintendo, following Sonic Lost World and Mario & Sonic at the Sochi 2014 Olympic Winter Games. Release date: 21st November 2014

30/30 Pokémon Omega Ruby and Alpha Sapphire

The 3DS remakes of the 2002 Game Boy Advance titles Pokémon Ruby and Sapphire will be a must-have for Pokefans. Release date: 28th November 2014
They're also getting into the latest thing, the world of mingleplayer. Little notifications tell you if your friends are online and what they're up to and you can join them in races and challenges at the press of a button. The social aspects carry on with abilities to make clubs of up to a thousand players within the game and drive into car meets to show others online what you've done with your winnings.
The game manages a good mix between fun for the casual gamer while still having a large amount there for those who want to customize their cars as much as possible – from big changes (luminous green paint job and zebra stripe tires for me) to tiny tuning tweaks for those who know what the jargon actually means.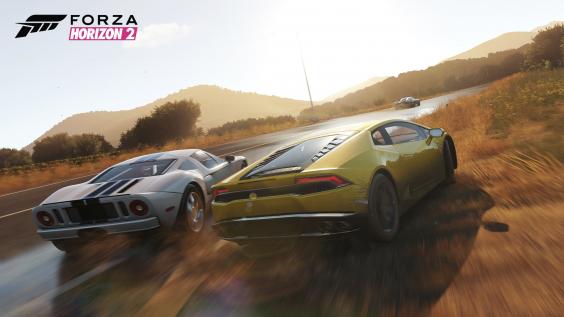 In the end, there are bits of the game that stand out for anyone. If you want to drive dangerously along barriered sea-view roads (and who doesn't) then go ahead, if you want to amble along between races then enjoy the towns on offer you can, and if you want to race through fields, dodging trees, then there are challenges waiting for you.
The game's end product means that when you start your first Bucket List Challenge and the floating writing comes up, in that Scott Pilgrim way, saying your challenge is to 'Drive a koenigsegg like you stole it', you don't feel like it was made by idiots in ironic varsity jackets. Just people who were trying to leave you with a certain feeling while playing - a carefree feeling that really comes across.
Forza Horizon 2 is released on 30 September 2014
Reuse content