The latest announcement from Gamescom by Microsoft have confirmed that customers who pre-order the Xbox One before Christmas will receive a free digital copy of Fifa 14. Customers who have already ordered the console will also receive a copy of the game.
Fifa 14 for the Xbox One will also come with exclusive content in the form of an 'Ultimate team of legendary footballers'. These players include Pelé, Patrick Viera, Freddie Ljungberg, Ruud Gullit and Gary Linekar.
"We're thrilled to bring legendary footballers to Fifa 14," said EA Sports Senior Vice President Matt Bilbey. "Only on Xbox will you be able to terrorise defenses with a dream partnership of Messi with the legendary Pelé."
The Xbox One will be sold for £429 – more expensive than Sony's £349 PS4 – and it's thought that the bundled game will help to ease customer's fears that they are paying too much for Microsoft's console.
Other news from Gamescom included the launch of ID@Xbox (a new scheme to help indie developers launch their games on the Xbox platform) and the announcement of Fable Legends (click for video), the latest title in the popular Fable franchise and an Xbox-exclusive.
As well as Fifa 14 there'll be more bundled content for Xbox fans for Call of Duty: Ghosts. Available exclusively through Game in the UK, the package will include as-yet unknown content.
Microsoft recently released a video highlighting the new multiplayer features for Call of Duty: Ghosts. Describe by Mark Rubin, studio producer at Infinity Ward, as "the biggest overhaul of multiplayer since the original Call of Duty: Modern Warfare", online play for the game will include several new game modes, expanded customization options and - for the first time - female avatars.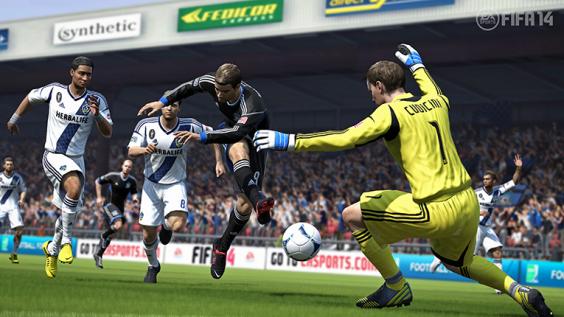 Reuse content