In the past month, sixteen teams have been whittled down to just two. Players have travelled from around the world to compete at landmark venues in Paris, London and Brussels; but it all ends on Saturday. At Berlin's Mercedes Benz Arena, a 15,000-strong crowd will witness history being made as the victor is crowned the best in the world, winning a handsome $1 million prize-pot in the process.
And it will all be for a game you've probably never even heard of - but you should because an expected 30 million people will be watching the final live (more than the NBA Finals); and nearly 70 million play it every week.
Welcome to League of Legends, one of several games transforming eSports into mainstream competition.
eSports is competitive video gaming which sees players competing for cash prizes in front of huge audiences. Tournaments such as The International Dota 2 Championships, the Battle.net World Championship Series and the League of Legends World Championship have put eSports on the map.
League of Legends involves two teams of five players, with each player controlling a hero as they attempt to destroy their opponent's base on the opposite side of the map. With over 100 champions available to pick from, the game is incredibly complex and it requires the ability to remain patient but also have an awareness that one split-second decision could lead the team to glory.
League of Legends is into its fifth season of competition, and similar to other eSports, it is dominated by Asian teams. The two finalists, KOO Tigers (KOO) and SKTELECOM T1 (SKT) are all-Korean teams.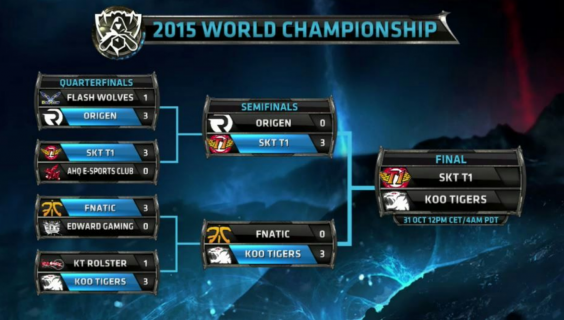 KOO formed last year with a mix of rookies and overlooked veterans, no one was sure what to expect of them. Despite a rocky start in the Group Stage, KOO have been dominant in the latter knockout phase of the tournament, winning 3-1 and 3-0 to secure a spot at the final.
SKT, winners of the 2013 World Championship, have gone undefeated in the tournament. From the Group Stage to the Semis, they have not conceded a single game. They look favourites to become the only team to win two World Championships.
The 2015 World Championships begins at 11am GMT on Saturday 31 October. You can view online on YouTube or Twitch.tv.