Before writing this review, I have to admit I'm a fan of the Madden series; I've bought every edition of the game, bar one, since my first copy in 2000.
When my copy arrived through the letterbox, I opened the wrapping with huge anticipation.
The game promised to go to another level on a next-gen console, sharper graphics, quicker gameplay, better AI and improved gameplay. But EA have gone one better.
Even if I had not bought a copy in the intervening years, the game is as familiar as it was in 2000. The same way to control your offence, selecting your plays and pass to your wide receiver - evolution not revolution has always been the mantra in the hugely popular series.
Long-time players will know that playing on the defensive side was always a bit haphazard and a bit of a chore. As a player you sort of felt like you were waiting for your turn to have another go as the offensive team - it was difficult to truly make an impact rather than wait for the AI, or the opponent to make a mistake.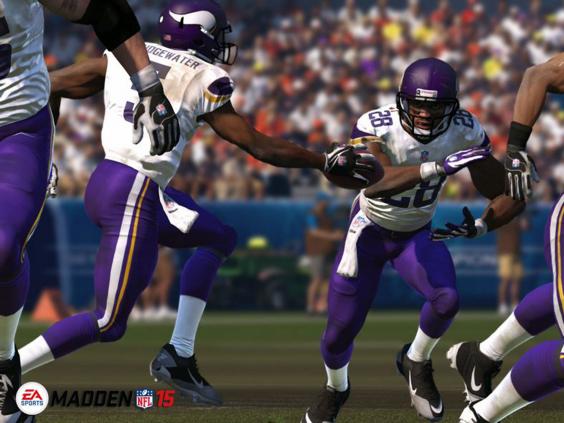 But this year everything has changed on that side of the ball. The first major change is you can chose to lock in as a single player (meaning extra fun taking charge of players like JJ Watt or Richard Sherman) which flips the camera so you are facing the quarterback.
It may sound like a small modification but it completely changes the way you play on defence.
There's a satisfying bit of button-mashing to attempt to get free of your man but once you are free the second change then comes.
In Madden 15, it's not about just running into your player to bring him down, you choose the style and power of your tackle.
Do you go for the power hit and attempt to force the fumble or go low and make sure you wrap him up? Different players react in different ways - powerful runners will break free of tackles if you go too high, whereas speedy guys can duck out of big hits.
When you're calling a play there's also a handy menu that gives you the statistics and likelihood of a play being successful.
Away from the in-game play the graphics and presentation are superb and do the PS4 full justice, players look like their real-world counterparts and the detail in signature moves and mannerisms is perfect.
Some players have encountered early glitches such as miniature and flying players but I've yet to see any of those.
Favourite game modes such as Connected Franchine and Ultimate Team are back, but I've yet to truly dig into those so will reserve judgement for now.
Even though I am a big fan of the series this is a welcome shot in the arm for a game that was becoming slightly stale.
If you're a fan of the NFL it's a must, if you're curious it's highly recommended.
Reuse content