Having sold more than 70 million copies since 2011, the computer game Minecraft hardly needs further confirmation of its global popularity. But it got it on Saturday when 10,000 fans converged on an exhibition centre in London, and Guinness World Records certified the gathering as the world's largest convention dedicated to a single game.
The chance to hear from Minecraft's developers and some of the bloggers who have become superstars in the 33 million-strong Minecraft community didn't come cheap. Tickets to Minecon 2015, a sold-out two-day event at the ExCeL London Exhibition and Convention Centre, cost £129 but reportedly sold out in hours. On offer was the chance to get the inside track on a world in which users create virtual structures and contraptions out of textured cubes.
Minecraft creations
Minecraft creations
1/5 Taj Mahal

The original Taj Mahal may have taken almost two decades to complete, but this is a worthy tribute

2/5 Hyperscale

Minecraft players have taken inspiration from some of Europe's most beautiful cities, complete with canals and elaborate architecture.

3/5 Ancient Metropolis

Users have created "The Golden City", with extremely ornate architecture, similar to Cambodia's Angkor Wat complex

4/5 Desert island

An ornate island created by one user

5/5 Rocket launch pad

Prepare for take off with this Minecraft rocket
Sanad Alhooti, 13, had flown from Oman to attend the event. He said that he spends about 40 hours a week playing Minecraft and that the game had the ability to improve and even transform its users' lives.
"Through exposure to the servers [online communities within the game], Minecraft has helped me learn and understand English," he said.
Matt Kimberling, 47, who was visiting the convention from Oklahoma with his nine-year-old son, praised the game for its capacity to "open new doors into many routes of life". Mr Kimberling plays Minecraft "a few times a month" with both his daughter and his son (his wife has yet to fall under its spell) and attributes his son's nascent interest in programming to the game.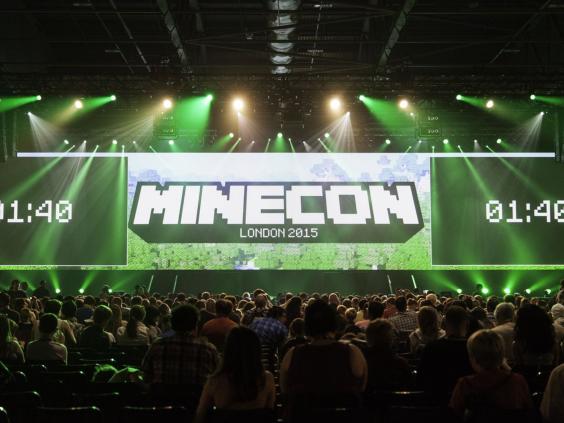 "Its ability to create and mould has never been seen before, and that's the appeal," Mr Kimberling said. "There are so many different things you can do within Minecraft, such as building and playing internal games against other players. It's an open world to create what you want and how you want … the sky really is the limit."
The school in Tulsa attended by Mr Kimberling's son is already using Minecraft as a teaching aid, Mr Kimberling said, although that isn't usual in the United States. Microsoft – the software giant that bought Minecraft's parent company in September 2014 – hopes to extend the game's educational potential by developing initiatives highlighting its ability to teach maths and improve children's cognitive and problem-solving abilities. The company is also developing a version for its HoloLens virtual reality headset, and a few lucky fans got a taste of the new system.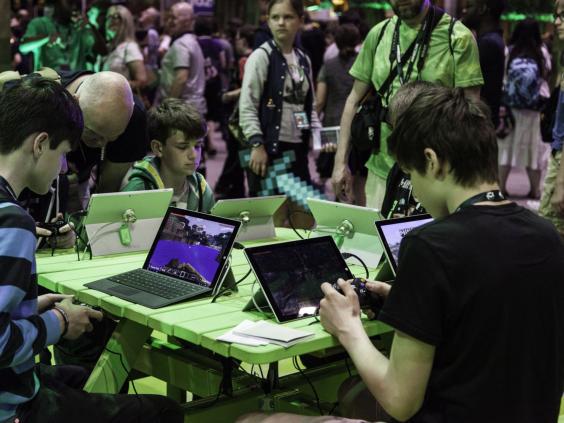 Minecraft's educational potential wasn't a priority for many of the gamers, mostly young and male, who poured into the ExCeL to hear from star YouTubers such as Stampy, The Diamond Minecart and Captain Sparklez. Stampy, real name Joseph Grant, has made a career out of the game by setting up a YouTube channel offering tips to players. His daily broadcasts are viewed by more than 500,000 people.
For many at the convention, the game is simply an alternative world full of possibility. Zoe Lee, 22, from Birmingham, spoke of "the ability to do anything". It's a sentiment echoed by Harry Olsen, 13, from Dartford, who loves the fact the game is "free roam", and lets him do "anything I want".
Reuse content