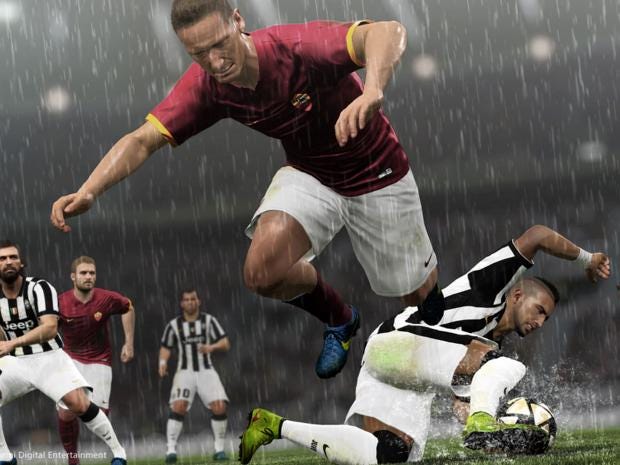 PES requires thinking about each pass and challenge, which makes goals feel hard won, and matches feel like real contests
PES 2016's slower, calculated gameplay feels refreshing after Fifa's increasingly arcade style
PES 2016
*****
PS3, PS4, Xbox 360, Xbox One, PC (£41.86)
All that really matters about PES is whether it's better than its arch-rival, Fifa. And this year it might be – its slower, calculated gameplay feels refreshing after Fifa's increasingly arcade style. PES feels much more like real football. It requires thinking about each pass and challenge, which makes goals feel hard won, and matches feel like real contests. That isn't always as fun, and Fifa will still be the best choice for casually sitting down to play with friends. And PES isn't as slick, in its play or its presentation. But it is more thrilling, tougher – and ultimately more rewarding.
Andrew Griffin
NHL 16​
*****
PS3, PS4, Xbox 360, Xbox One (£46.85)
Ice hockey is one of the fastest and most exciting sports around and EA Sports has done everything to capture that in a triumphant return. When you're on the ice, the action is frenetic and rewarding. It looks gorgeous and controlling players is slick and satisfying. The on-ice trainer means that even newcomers can get to grips with an unfamiliar sport. Unlike last year there are plenty of modes, whether you create your own professional or take charge of a franchise, to keep players interested long-term.
Tom Sheen
Blood Bowl 2
***
Xbox One, PS4, PC (£29.86)
It's very close to being excellent. But the reliance on chance and a random roll of a dice is the biggest problem with this enjoyable turn-based mash-up of chess, American football and bone-crunching fantasy. Getting players into position to score touchdowns requires strategy and, unfortunately, luck. You'll ask: Why has my ogre (strength rating six) just been knocked out by that goblin (strength rating two)?" The dice. Despite that flaw, it is still a huge amount of fun with humorous presentation and brutal cut-scenes, while the online mode will keep fans interested.
Tom Sheen
Reuse content
Comments