Reminiscent of the much-loved Micro Machines games, Super Toy Cars is an arcade racing game where players assume control of various miniature vehicles, recklessly speeding around courses marked out among household objects. Rather than the top down view of Codemasters' classic, here the view reverts to traditional behind-the-car perspective.
A short tutorial does a good job of establishing the rules of racing, before letting you get stuck into a variety of competitions.  Weaponry is mainly the usual standard oil slick and rockets fare, although the first time you see an oversized eight ball fly over your shoulder and decimate the competition is a nice surprise. Power slides charge up a boost meter which you can then use on opportune straights to take full advantage, provided you can avoid the impediments littering the tracks.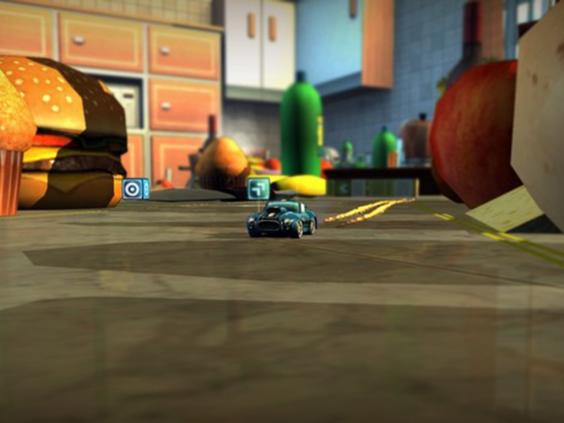 Flying sushi rolls are the least of your worries however, as the physics engine is rather cruel, penalising players with crude collision detection at the most inconvenient times. Hitting certain obstacles at speed means an automatic respawn which sets you back rather unfairly. This persists throughout, detracting from otherwise solid mechanics and proving frustrating for those trying to shave seconds off their best lap times.
Races themselves come in a variety of modes, a personal favourite being the eliminator races where the last-placed competitors are disqualified at 15 second intervals, leaving players scrambling across mine-strewn tracks trying not to slip into the back of the pack.
Although racing takes place on the dinner table, in the back yard and in the children's nursery, there's a lot of re-used assets from track to track, leaving Super Toy Cars lacking the freshness that marks a truly great racer. It's especially disappointing from a game with as strong a concept as this, a missed opportunity to update toy racing for a new generation of young racers.
Reuse content