WWE's annual roster reveals for their latest games are one of the most surreal experiences you can imagine. They mainly consist of real people assuming fake personas having to answer genuine questions about pre-scripted storylines by a horde of rabid fans. It's utterly bizarre, but hey, at least this year there wasn't a seemingly inebriated Ric Flair making a spectacle of himself.
With Sting making his first real appearance for WWE and legends like Hulk Hogan and Stone Cold Steve Austin in attendance, the actual game itself was kind of lost amidst a barrage of tough questions directed at a bewildered panel that probably forgot how to spell their birth names around the first time they became intimate friends with the frame of a steel chair.
What we did get on the gaming front was brief interludes of stock photographs showing which superstars would be playable in WWE 2K15, the first wrestling game for the latest generation of consoles that aims to bring next-gen graphics and power to the squared circle. What we didn't get was any footage of the actual game, a baffling decision considering it releases at the end of October.
The only two images that have surfaced to date are undoubtedly impressive, with the gurning mugs of John Cena and Randy Orton replicated with startling accuracy.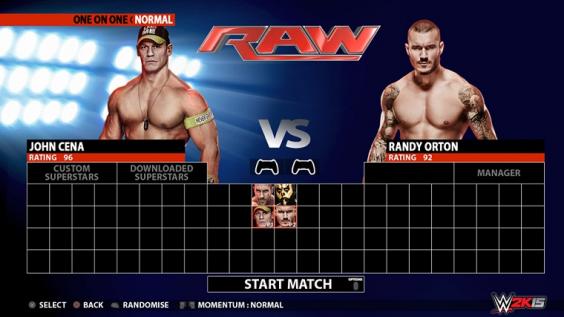 Whether they look equally competent in motion is yet to be seen after last year's wrestle-fest 2K14 suffered with character models that looked less like human beings and more like a Frankensteinian collage of super glued ham joints.
In spite of some wobbly hit detection, 2K14 also showed promise with its gameplay, but 2K games - seemingly now very comfortable with a license they acquired from the ashes of THQ - are aiming to bring over the quality and polish from its well-received NBA games through extensive sessions of motion capture and an entirely new set of in-game character animations.
Also making its way over from the basketball court is a full-fledged story mode titled My Career, a feature that has been sorely lacking from the most recent WWE games. While all of the details for the mode are yet to be revealed, you can expect to see your no doubt hilariously garbed custom wrester engaging in a full-fledged story on the hunt for the prestigious WWE World Heavyweight title.
Replacing 2K14's enjoyable, but underdeveloped Road to Wrestlemania mode, is a feature called 2K Showcase which will supplant the former's short pre-match vignettes with mini-documentaries of existing footage that focus on two significant rivalries within the annals of WWE history. Set across a reported thirty-three matches, 2K Showcase focuses on the friend-turned-foe story arc between 'The Showstopper' Shawn Michaels and 'The Game' Triple H and - in what is sure to be the main event – the era defining clash between CM Punk and John Cena. With Punk recently departing the WWE "forever", this retelling of the legendary rivalry between the master of the pipe-bomb and Super-Cena should hopefully be the bittersweet send off the straight edge superstar deserves.
The WWE Universe sits precariously on the cusp of the ascendancy of a new generation of wrestlers led by Roman Reigns, Bray Wyatt and the injured, but not forgotten Daniel Bryan. With much to look forward to in the ring, here's hoping 2K can up their game and deliver a clean pinfall victory come October.
Reuse content