Google Maps is all very well if you're looking to get from A to B, but what if you want to catch some Z's? Step forward Google Naps: a crowd-sourced cartography project that wants users to add their favourite places for catching a bit of shut-eye.
Using the familiar Google Maps overlay, Naps lets users mark up their own favourite spots, choosing between 'bench', 'bed', 'field' and 'bridge' as the "type of nap" available.
The locations currently tagged seem like they might be of use to weary back-packers and the like who haven't yet found their way to a hostel, with even those spots marked as 'bed' tending to be a little more public than you'd expect
One tag at King's Cross Impact Hub (a sort of start-up incubator slash working space for "entrepreneurs, creative and professionals") seems like any would-be nappers aren't exactly asking for official position, with the note indicating that "there's a quite spot hidden behind some stairs with a reclining chair."
When we scoped out spots near to The Independent's offices in High Street Kensington were given the choice of a bench at the V&A Museum or a grassy spot in Kensington Gardens, the latter marked with a note saying "lekker lekker" – a general-use Dutch word that roughly translates as 'cool' and that also reveals Google's Naps roots in Holland.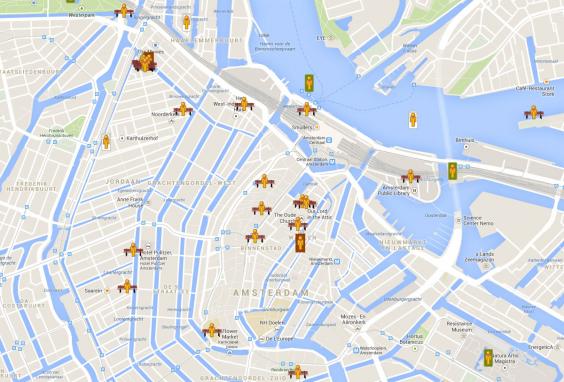 Kakhiel, the designers responsible for the project, have also included their own foot-note to Google, attempting to pre-empt any possible unpleasantness from the internet giant's legal team:
"Dear Sergey & Larry (and other Googlers)," they write. "Hello, please don't be mad, this is just a joke, a parody. We don't mean to damage your brand or anything, we just want to bring a smile on the faces of Google fans. So please don't take this to court, we only have a few hundred Euros in the bank. And we also don't want to go to jail because we're too busy with other things at the moment."
Here's hoping it's all taken in the right spirit. Once summer finally arrives in the UK (we've heard it might be here as early as August) you just know that lunch breaks are going to start looking like the perfect time for a quick snooze and if you're stuck for a patch of grass to lay down your weary head, then Google Naps might just point you in the right direction.
Click here to visit Google Naps
Reuse content