The team of designers behind a light that is powered purely by the force of gravity have finally put their creation into production.
Deciwatt, the group behind the light, says the invention will "provide affordable, sustainable and reliable light, anytime, that enables people to break free from the economic, health and environmental hazards of kerosene lamps."
This mission began when Deciwatt, founded by inventors Martin Riddiford and Jim Reeves, was challenged by the charity SolarAid to design a new LED lantern for Africa as an alternative to the "ubiquitous and damaging" kerosene lamp. The challenge was undertaken, but as time progressed, the team came up with what they believed was even better than an LED light: a light that is powered solely by the force of gravity.
The light they developed came to be known, understandably, as the GravityLight. The GravityLight consists of an electricity-generating device and a bag which is hung below it. The bag is filled with around 10kg of material – which can be anything from rocks to sand – and is lifted up towards the device. The bag then slowly descends due to gravity and, as it does so, gears inside the generator are turned, translating this movement into light energy.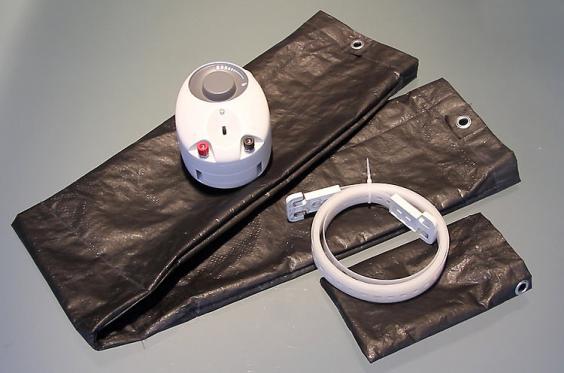 The GravityLight can generate enough energy for up to 30 minutes of continuous light, and can be used over and over again, whenever, wherever. And although the initial price of the light was set at around $10 (no small fee for the impoverished areas in which it will used most), after three months of use, the GravityLight will have recouped the equivalent cost of running a kerosene lamp for the same period.
Deciwatt also claim that the GravityLight has a superior light the majority of kerosene lamps used by those without electricity and is "more sustainable, safe and healthy."
After a risk of the project being derailed before it had really even begun due to lack of funding, Deciwatt took their campaign to the crowdfunding site Indiegogo. An initial target of $55,000 was set at the end of 2012 and within 40 days, more than seven times this amount had been pledged, bringing the final amount of funding up to $399,650.
By October this year, the production of the GravityLight was underway, and at the end of last month, Deciwatt announced that the Indiegogo pledgee's GravityLights would be shipped to arrive from late December 2013 to early February 2014.
Deciwatt plans to produce a comprehensive report on the trials of the GravityLight early next year.