For a relatively unknown smartphone manufacturer like Huawei breaking into developed markets isn't easy. It can't fight the marketing juggernaut of a company like Samsung and nor can it match the undimmed attractions of the iPhone (or its evergreen App Store). Instead it has to compete on specs and prices, promising in-the-know customers a flagship device at entry-level prices. It sounds like the best of both worlds – but how does it work out in real life?
Huawei's latest attempt to crack this formula is the Ascend P7, an extremely skinny, 5-inch device that's selling for £330 SIM-free in the UK and $479 in the US. From the off, the P7 certainly feels like a quality smartphone. It's solid, nicely balanced, and at just 6.5mm thick it's easily one of the slimmest devices on the market with Gorilla Glass on the front and back keeping most minor scratches (but not smudges) at bay.
In terms of design Huawei has obviously taken a few cues from Sony's Xperia range, with the P7 offering a smooth, minimalist look, with metal perimeter and a power/unlock button located halfway down the right hand side of the device (in terms of others connections there's also a micro USB at the bottom for charging and a 3.5mm headphone jack located top left).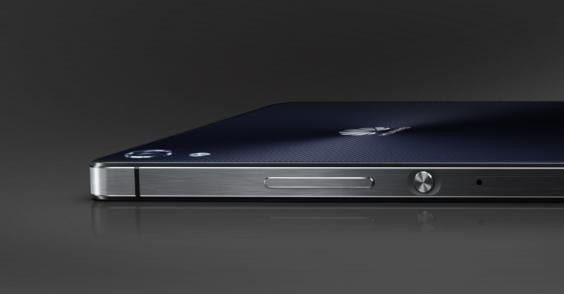 However, this is by no means a perfect look: the square sides of the P7 can sometimes feel uncomfortable in the hand; the front-and-back glass choice can lead to the odd moment of confusion when you're adjusting the volume in your pocket, and there's a very quiet but discernable  rattle in the case – something that other reviewers have reported as well.
In terms of the components Huawei has found itself similarly stranded between ambition and compromise. There's a 5-inch display with a 1920 x 1080 resolution that looks sharp and bright (although it doesn't stand up side by side to something like the LG G3) and Huawei have included an impressive, 13-megapixel rear facing camera (which the company sensibly decided to source from Sony) and an 8-megapixel front facing lens which comfortably bests the competition from even HTC and Samsung.
Unfortunately, the rest of the specs aren't quite as impressive. The P7's 16GB of internal storage will soon fill up (although you can expand it with up to 64GB on a microSD card) and despite the company saying they'd learned the lesson of the under-powered P6,  the quad-core 1.8GHz processor and 2GB of RAM Huawei bestowed upon the P7 don't come close to matching rival flagship devices in benchmark tests.
This isn't to say the phone is slow though and for normal activity - texting, a bit of video browsing, some games - it didn't stutter unduly. The P7 certainly doesn't have the flagship specs it might lay claim to, but it's as powerful as most users will want - after a certain point top-end hardware can feel more like vanity than utility.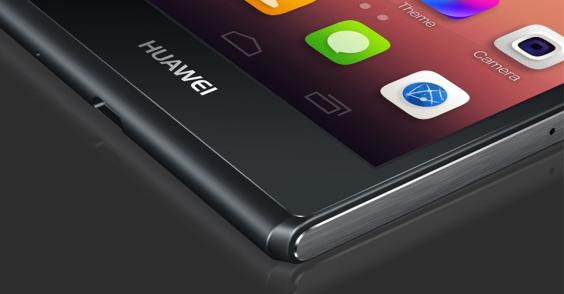 However, there's one area where Huawei has shot itself in the foot fairly unequivocally and that's in skinng the Android operating system with its own Emotion UI - a mobile OS that seems reminiscent of Apple's iOS, removing the app drawer in favour of placing all the apps on the home screen and replacing Google's icon with a set of soft, pastel-coloured squares.
Unfortunately, this design just isn't an improvement on the standard Android 4.4.2 KitKat it's replacing. The icons are mostly ugly and often 'minimalist' to the point of obtuse while some key parts of the Android system - such as the notifications and settings bar - have become complicated and unwieldy. More experienced Android users will be able to fix most of this with custom UI tweaks (Holo Launcher will bring back the app drawer back for example) but it's just not as useable or attractive as stock Android.
This puts the P7 in a bit of an odd spot. For casual users who won't take the trouble to spruce up the OS it's going to feel a bit toy-like compared with mainstream offerings, while more discerning customers are likely to plump for an iPhone or top-of-the-range Android to get everything they want from a mobile. This is a shame because the P7 is genuinely a great phone if we're judging on price and build quality. If you're an Android pro on a budget then it's worth considering the P7, but most customers are better off sticking with the mainstream manufacturers.
Reuse content