Of all the new features introduced in iOS 8 perhaps the most useful and underrated is the ability to add widgets to your iPhone or iPad's Notification Center.
This feature has the potential to turn a previously unloved bit of screen real estate (just swiped down! at any time! even from the lock screen!) into a little productivity war room that lets you read headlines, take notes or updated your to-do list.
Not every app has a widget ready to go (and more than a fair few you'll need to buy) but our list below highlights some of the best ones.
To customize your Notification Center simply swipe down to access it, scroll down and hit the Edit button at the bottom (this isn't available if you swiped down from the Lock Screen) then hit the plus and minus buttons to choose what's displayed and order them by dragging around the three-lined icon on the side.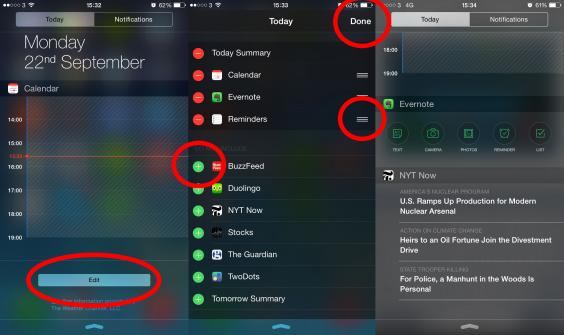 The most useful thing to put in the Notification Center is of course to-do apps, many of which now offer widgets. These include Clear  (£1.99), Wunderlist (free), OmniFocus 2 (£13.99) and Agenda+ (£1.49) - all of which let you see a list of upcoming tasks.
Duolingo - Free -  If you're learning a language with Duolingo then the widget will prompt you about reaching your daily goals.
Evernote - Free - Evernote is one of the best note-taking apps out there. The widget gives you five shortcut icons to create a note (text or from your camera), set up a reminder or create a list.
HoursTracker - Free - Does what it says on the tin. Lets you keep track of the hours in your day, whether you're working hard or hardly able to break through your current state of apathy.
iTranslate - Free - A practical widget this one, it'll translate whatever text is in your clipboard.
Runtime - (£1.99) - This fitness tracking app records run times and routes, while the widget lets you know how many steps they've taken.
Sky Guide - £1.49 - For star-gazing obssessives, Sky Guide's widget looks beautiful, showing sunrise and sunset time as well as the phases of the moon and the position of the planets.
Yahoo News Digest - Free - Like the app itself, the Yahoo widget offers a curated selection of news stories from different outlets. If you prefer a specific paper then The New York Times and the Guardian's apps also offer widget (Buzzfeed's too!).
Reuse content