We may not know what for certain what iPhone 6 will look like (though we've got a pretty good idea) but what's clear is that it'll be shipping with iOS 8, the latest version of Apple's mobile operating system.
This updated OS will be coming to a bunch of Apple devices later this year (it'll be available on iPhones dating back to the 4s and iPads from the second generation onwards) so here's a quick preview of some of the best new features to look out for:

Show medical ID on your lock screen
Apple's new HealthKit app/platform will act as hub for all the medical data you could dream off (seriously, it can store info on everything from body fat percentage to magnesium levels) but most useful is the option to put your medical ID on your lockscreen (it appears as a button in the bottom left) to give paramedics or helpful strangers access to crucial info in case of an emergency.
*

Interact with notifications
iOS 8 will finally make notifications more than glorified pop-ups, allowing users to reply to text messages, confirm calendar events, trash (or mark as read) emails and respond to reminders.
*

Reply to messages with audio, video or location
iMessage may be unreliable sometimes, but new messaging options should make up for this. Users will be able to tap and hold the microphone button to record audio and swipe up to send. The 'details' button in the top right of conversations also allows users to share locations (temporarily or for ever) or turn off notifications for a specific conversation.
*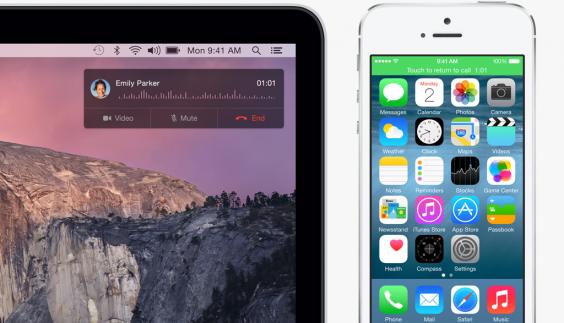 Take calls on your tablet or laptop
Calls to your iPhone will now show up on your iPad and Mac – as long as they're all on the same Wi-Fi network. It's all part of Apple's big 'Continuity' concept which will also allow you hand over anything from browsing sessions to emails from screen to screen.
*
Watch talk-to-text work in real time
Okay, so this isn't really a hidden or new feature, but it still looks pretty cool (plus, we've always thought talk-to-text was underused for how futuristic it feels).
*

Keeps tabs on app purchases by your children
Apple is doing a lot in iOS 8 to make iPhones and iPads more family friendly, with a new feature called 'Family Sharing'. Basically, a parent sets up the account and from there can share purchases made in iTunes and the App store and create a shared photo album and calendar. There's even a location-sharing option for the helicopter parents that like to hover real close.
*

Search Wikipedia and more from your homescreen
Spotlight is handy to access - simply pull down from the homescreen - but kinda underpowered. iOS 8 changes this by expanding the search function from music and contacts to take in Wikipedia, news and nearby places. ('Suggested websites' and iBooks results sound more intrusive than handy, but you take the rough with the smooth).
Reuse content