Fitness monitors are big business. Not just the wristbands like the Nike FuelBand, Jawbone UP24 and Fitbit Flex, but smart watches such as the Samsung Gear S and LG G Watch R. Really, how do you choose?
Well, if you thought there was enough out there already to confuse you, just wait. Last week Fitbit announced three new bands, aimed at every level of activity from casual to athlete. And today, Jawbone reveals two new products as well.
Three years ago Jawbone, previously known as a Bluetooth headset and speaker company, branched out into fitness monitors or, as it calls them, lifestyle trackers. The first one, the UP, initially had charging issues and was withdrawn until it was fixed. The second generation band, UP24, was much improved, with Bluetooth synchronisation of your activity with your smartphone.
Now, Jawbone has announced two new products and the Independent was the first UK publication to see them. The first, available for pre-order today and in the shops later in the month, is the UP Move, a tiny tracker that clips on rather than fits on your wrist. This is a form factor that the Fitbit Zip and Misfit Shine have pioneered and is ideal if you want to make a less visible song and dance about wearing one (note that the dance will gain you extra recorded steps, but the song is meaningless, tracker-wise).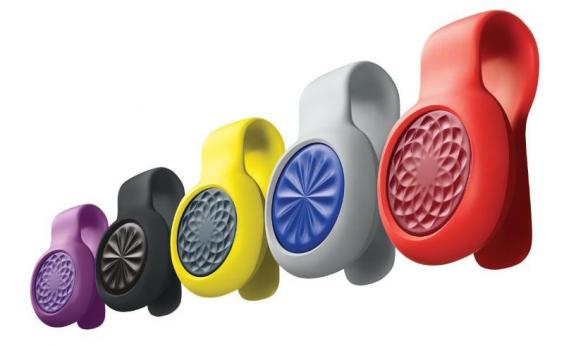 The UP Move will clip to your belt or pocket, though you can attach it to a supplied wrist strap as well if you prefer something, er, watchier. Like the Shine, it doesn't have a watch face. Touching the screen twice means the edge lights to show you the time, hour first, then minutes. It's not ideal, though better than the Shine's time effect which is almost like trying to decode binary. Here you can also check how your day's activity is going by tapping the same button: lights show you how near you are to your goal.
This is certainly a neat piece of kit, more plasticky than other UP products but available at a very keen price, £39.99. Unlike other UPs it has a watch battery in it, so you don't have to recharge it. The battery lasts around six months, which equates to 2 million steps, by which time you may feel both you and the Move deserve a new battery.
Jawbone stresses that the hardware is only part of the deal. There's also a comprehensive app which is full of tips, challenges and more. And all the UPs, including the Move, measure your sleep. Ingeniously, this means it knows how deeply you're sleeping and the next day you can see how well you're sleeping. The software then recommends what time you should get to sleep the next night to make for a regular sleep pattern.
On the pricier UP 24, you can even set a smart alarm so that the band starts monitoring your movement and when it spots you going from sound sleep to light sleep, it wakes you then. This is the best moment in the sleep cycle to wake and can mean you wake feeling refreshed.
Jawbone's other announcement was even better, a new top-of-the-range monitor called UP3 which will be, the company claims, the most advanced available with multiple sensors. It's a wristband which has an adjustable clasp and a classy look, similar to the patterned plastic of the UP24. It'll be out in the next couple of months and is priced at £149.99.
Its advances over the UP24 include skin and ambient temperature sensors to measure your resting heart rate. The extra sensors also now measure your sleep better, splitting it into more sections – light sleep, REM sleep and deep sleep.
I'll be testing both products properly soon, though initial reactions are positive. The UP3 looks attractive and is lightweight, and it promises to know automatically if you're doing something other than walking or running such as cycling. The advanced sleep functions could be important. And the UP3 is the first UP that is water-resistant enough for you to be able to wear it while swimming. Finally.
The UP Move is amazingly well-priced, offering a lot of power and a more discreet look because you can stuff it into a ticket pocket or sleeve.
But Jawbone doesn't have the market to itself. Fitbit's products sell well and companies like Sony and Samsung won't give up their attempts at wearable fitness. Fitbit, especially, has a lot of products out now or on their way, and have compatibility with Windows Phone handsets as well as Apple and Android. Jawbone needs to play to its strengths – most rivals don't have the ability to wake you at the right point in the sleep cycle, for instance. At first glance at least, though, the products look impressive.
Reuse content