Google has sold Motorola Mobility to Chinese computer maker Lenonvo for $2.91bn (£1.8bn).
The surprise move comes less than two years after the internet company first purchased the struggling hardware business.
Google originally paid $12.5bn for the company in May 2012, in what was seen at the time as an aggressive push into the smartphone market. Lenovo's purchase looks to make it the world's third-largest smartphone maker behind Samsung and Apple.
Despite launching two well-received handsets with Motorola – the Moto X and Moto G – Google failed to achieve strong sales and the division lost $645m in the first nine months of last year.
However, the sale of Motorola Mobility is not a straightforward loss for Google. Whilst it does signal a narrowing of the company's hardware ambitions, the original purchase was also motivated by the Motorola's trove of 17,000 patents, the majority of which Google will retain after the sale.
Market research firm Strategy Analytics praised the sale as a "good move" for all involved.
"The Chinese vendor gets access to the valuable US smartphone market and the fast-growing Latin America region," said the firm. "For Motorola, it gains access to an ambitious sugar daddy that has a strong presence in the huge China market [and] for Google, it divests a loss-making hardware division."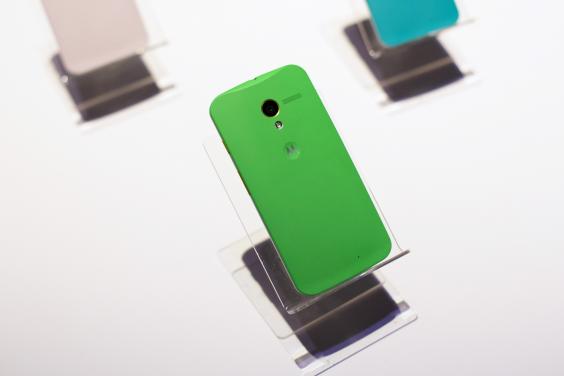 "The acquisition of such an iconic brand, innovative product portfolio and incredibly talented global team will immediately make Lenovo a strong global competitor in smartphones," said Lenovo's chief executive Yang Yuanqing, in a blog post.
"We buy this business, we buy this team as our treasure."
The purchase is the second major acquisition for Lenovo in a fortnight. Last Thursday, the world's second-largest PC-maker announced plans to buy a major piece of American company IBM's computer server business for $2.3bn.
With the Motorola purchase Lenovo will join Apple as the only major technology companies with global product lines in PCs, smartphones and tablets, putting Lenovo in a better position to become a one-stop shop for companies to buy all their devices from the same vendor, said Forrester Research analyst Frank Gillett.
"This makes Lenovo a company to watch," Gillett said. "The personal device manufacturer business is consolidating - and manufacturers must compete in all three device markets, plus emerging wearable categories, or get left out of the next market shift."
However, it will not be an easy fight for Lenovo. Although the purchase will give the company extra scale in smartphones, the combined market share of Lenovo and Motorola was only 6 per cent in 2013, way behind Samsung (32 per cent) and Apple (15 per cent).
What else is round the corner for Google?
Reuse content