It's not every day that you get to review a tablet which offers cutting edge features like 'Hold Mode' but Lenovo apparently likes to make dreams come true. In fact, their new Yoga 10 HD+ doesn't just offer Hold Mode but also throws Tilt Mode and Stand Mode into the bargain, gussying up what most of us would consider 'basic physical attributes' into 'unique multimode design'.
Bizarrely, the updated Yoga tablet (the original came out in November last year – the update offers a better display and faster processor) does actually deserve its badge of uniqueness. It's one of the more original tablet designs to hit the market in recent years and although the novelty won't be for everyone, the Yoga 10 HD+ manages to be pretty functional while improving on the failings of its predecessor.
Essentially the tablet is modelled on a magazine with some pages rolled up behind it. While most devices are just flat slabs in all directions, Lenovo's Yoga bulges out along the bottom edge of the screen into a smooth cylindrical roll, with the power button on one end and the headphone port on the other. Twisting this a little (which isn't that easy) pops out a stiff aluminium stand that can be used to prop the tablet up like a picture frame. Pushing this stand back in lets you place the tablet on a tilt, with the cylindrical roll propping up one edge of the screen.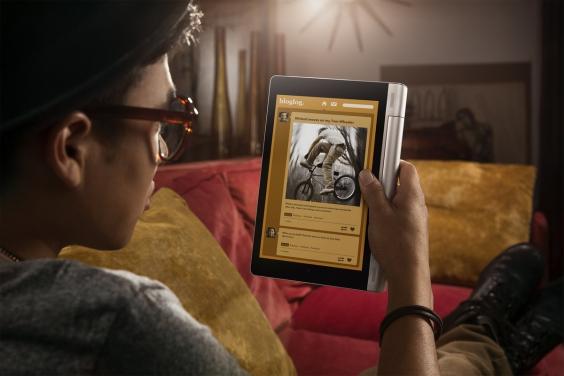 This three-part design works surprisingly well. When you're holding the Yoga in one hand in portrait orientation (that's Hold Mode you luddite) the cylindrical shape feels good and solid, and if you want to watch some TV or films on it then the stand works perfectly – especially as it's pretty small, allowing you to squeeze it onto, say, a crowded kitchen top to watch iPlayer while you do the cooking.
Unfortunately, hardly anyone wanders around with a tablet in one hand unless they're in an iPad advert and as nice as the stand is, plenty of cases offer similar functionality without adding the extra bulk and off-balance weight of the Yoga. This makes it feel just a bit awkward, especially when compared to Micrsoft's pricey Surface - which overs similar functionality with a slim kickstand.
In terms of technical specifications the tablet offers a merely okay 1.6GHz quad-core processor and 2GB of RAM, with 16GB/32GB internal storage expandable up to 64GB. The terrible screen of its predecessor has been given a bump to a 1920x1200 resolution but the colours were noticeably less than perfect and not a patch on the image quality of an iPad or Kindle HDX. For a device that is most useful as a portable screen this isn't great.
The Yoga does redeem itself in other ways by offering 3G capability and an impressive battery life (we didn't get the advertised 18 hours out of it, but it easily went a couple of days without charging with regular use). On top of all this it's got an exceptional build quality that exceeds the expectations of its price (£299 for WiFi and £329 for 3G version) and in terms of pure design you really won't see any other devices like it. If you're not too bothered about having a top-of-the-range screen (check it out in store to see if you like it) then the Yoga is a solid multimedia device. Just make sure you're ready for the wild ride that is Hold Mode.
Reuse content