Usually you'd put up a barricade to keep everyone out on a permanent basis, right? Well, Apple has decided that the best way to improve the look of Selfridges was to wall part of it off.
Admittedly, it looks pretty fetching, as barricades go. Simple dots, vaguely reminiscent of early Damien Hirst, flanked on one side by the Apple logo and the giveaway word, Watch.
In other words, this is going to be the first of Apple's shop-in-shop dedicated Watch stores, with others opening in chic locations around the world all on the same day, 10 April. Galeries Lafayette in Paris, Isetan in Tokyo and Selfridges will all start taking pre-orders for the new Apple gadget on this day – it actually goes on sale on 24 April. Paris, appropriately enough for Les Miserables fans, has barricades up as well, in Galeries Lafayette.
If you want one, or want to find out whether you do or not, then from the 10th, you will be able to visit the store-in-store by appointment, to try on the various versions of the Watch, and decide if they want to spend £299 on the aluminium-clad Apple Watch Sport or stump up for an 18-carat custom-alloy gold version which costs from £8,000. Or pop next door for a new Swatch, thank you.
In between the low- and high-priced watch variants is the Apple Watch itself, a stainless steel model which is available with a bunch of different straps. This goes from £479 to £949 depending on strap, size and finish. These include stunning pieces of jewellery like the elegant, magnetic Milanese loop or the discreetly shining beauty of the Space Black model.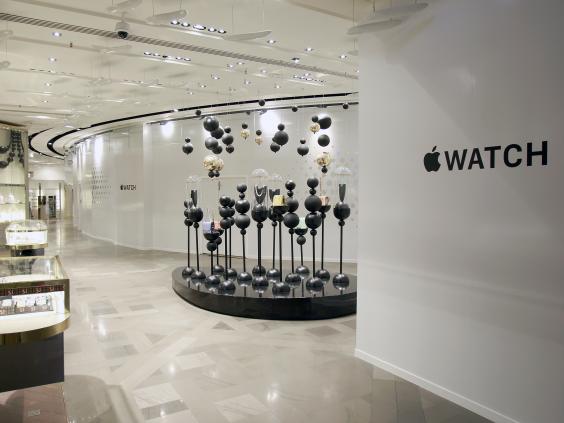 In the course of visits to Cupertino and elsewhere, I've tried on each of the variant watches, though not quite all the straps and they definitely look and feel different.
My top tip would be to first check out the Apple website where every model and price point is displayed: this will save time and bewilderment when you're in store.
Apple has never had a product like this before, so it's not surprising that there's a whole new way of selling them. Apart from the store-in-store fitting appointments (once that barricade has come down), there's also a personal setup experience for those who go to Apple Stores to buy as well as in Selfridges. The Apple retail stores are where you'll collect your timepiece if you order online, where pre-orders also start from 10 April.
Personally, I'd recommend an in-person experience: you need to see them to decide between the smaller and larger faces, to start with. And remember, the outsides are the only differences – both the £299 and £8,000 models have the same software, processor and so on inside. Most importantly, they ALL have Mickey Mouse as a watch face option.
From 24 April, they'll be on sale from the stores above and selected boutiques like Dover Street Market in London.
Reuse content