Apple revealed a new smartwatch at its iPhone event on Tuesday, demonstrating a new operating system for the wearable device that will be available in early 2015.
The Apple Watch will need to be paired with an iPhone — versions going back to the iPhone 5 are compatible with the device — and is controlled by a dial on the side of the watch. They will start at $349 (£216) in the US and will be available early next year.
Apple chief executive Tim Cook said that the company has created a new operating system that would stop users having to pinch on a small screen, as with other smartwatches. The dial on the phone does different things according to what app is being used, such as zooming within the maps app or scrolling through lists.
Wearers to reply to messages from in the watch using dictation and smart replies — in-built quick messages that users can choose from. Wearers can also select from emojis — with controllable eyes and mouth — within the watch.
The watch can vibrate to give feedback to its wearer. Friends can send messages to others' Apple Watches, making their watch vibrate, and can also let them 'feel' anothers' heartbeat.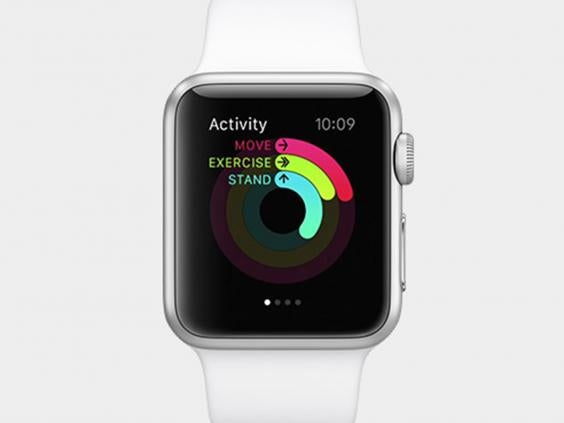 Sensors in the watch can measure wearers' activity, including their heartbeat, which will be fed into Apple's Healthbook, which stores information about users' bodies and health in iOS 8. It measures how much wearers have walked around and stood up, as well as activity during workouts.
It can share that information with other iOS apps, measuring activity through the day.
The Apple Watch will work with ApplePay, the company's near-field communication (NFC) payment system which was also announced on Tuesday.
Apple also announced a series of partnerships using the software in the app, including apps that can control lighting in houses and check on the battery levels in cars.
It will include new versions of the iPhone apps, including stripped-down versions of its voice-activated digital assistant, Siri, and mail and messages. A button on the side of the device allows users to get in touch with friends quickly.
Apple executives emphasised the accuracy of the watch, which uses what it said were new technologies to always be within 50ms of time.
The watch can sense the force with which the face is being pressed, and can sense where it is in space, so that it will wake up when it is brought towards the user.
The watch will come in a range of faces and straps, helping users customise their watches. Apple will also sell a smaller watch with different straps.
In pictures: Apple Watch
In pictures: Apple Watch
1/19 Apple Watch

Media and guests take a close look of the new Apple Watch

Getty Images

2/19 Apple Watch

Tim Cook introduces the new Apple Watch

3/19 Apple Watch

Apple CEO Tim Cook announces the Apple Watch

4/19 Apple Watch

Tim Cook with a side view of new Apple Watch

5/19 Apple Watch

Tim Cook explains the use of the screen on the new Apple Watch

6/19 Apple Watch

Apple Watch

7/19 Apple Watch

Apple Watch

8/19 Apple Watch

Apple Watch

9/19 Apple Watch

The many faces of the Apple Watch

10/19 Apple Watch

Share the beating of your heart with the Apple Watch

11/19 Apple Watch

Send a finger-drawn image

12/19 Apple Watch

The crowd use their devices to capture the Apple Watch

13/19 Apple Watch

Apple Watch

14/19 Apple Watch

Apple Watch

15/19 Apple Watch

The Digital Crown to magnify content on a small display

16/19 Apple Watch

Sensors to detect pulse rate

17/19 Apple Watch

Options for custom materials include gold

18/19 Apple Watch

The Digital Crown brings you to your apps

19/19 Apple Watch

The Activity app tracks three aspects of movement
There will be three different versions of the watch. A sports version is made for active use, and the 'Apple Watch Edition' is made using 18-carat gold.
The watch includes a number of digital faces, which include more spectacular images like a face that shows users' positions on earth. Those faces can be customised, including changing colours. The faces can also pull information from apps including the calendar, stocks and weather.
The watch has a sapphire display — the second toughest material on earth, as noted by designer Jony Ive during the keynote — to stop it being broken or scratched.
The watch will be charged using similar technology to the Magsafe charger found in Apple's laptops, changed using inductive charging so that there are no exposed contacts on the back of the watch, where it plugs in.
Reuse content