Aran Khanna, the Harvard student who had his Facebook summer internship taken away after he created an extension that showed Facebook users' locations, has given his side of the story in an article for Time magazine.
Khanna created the Marauder's Map extension - a plugin that allowed users of the Facebook messenger app to see the locations of the people they were messaging, simply using data already contained within the app.
His creation gained lots of attention, drawing attention to the amounts of data that Facebook can get from its users.
Shortly after the plugin gained popularity, a Facebook employee told him to not talk to the press and deactivate the plugin, which he did.
And the obligatory: "I made the front page of Hacker News" tweet

— Aran Khanna (@arankhanna) May 27, 2015
Then, the day before he was due to start a summer internship at Facebook's Silicon Valley headquarters in Palo Alto, California, he was called by one of the company's HR representatives, who told him that the offer was being revoked.
In an article penned for Time, Khanna draws parallels between his own hacking efforts and the early days of Facebook.
He writes: "That forward-thinking 'hacker culture' is how Facebook started. Can you imagine if Zuckerberg had gone to the school administration to ask permission to build Facebook in his dorm room?"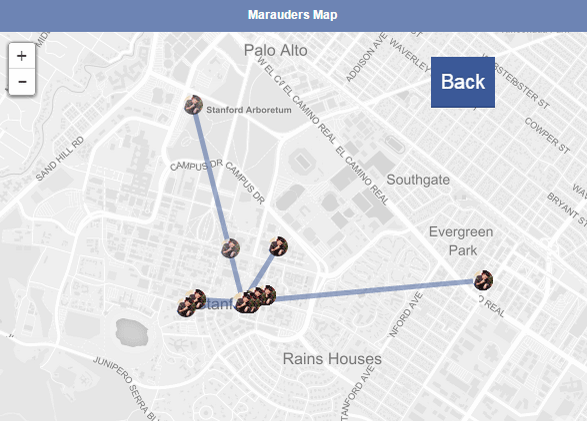 "Luckily, he didn't need permission. He built it, and his code won."
Famously, during his time at Harvard, Mark Zuckerberg created 'Facemash', a site that allowed his fellow students to rate each other on their attractiveness.
Zuckerberg was punished by the university for this, as the site's sheer popularity overwhelmed Harvard's internet capabilities. He also publically apologised.
Facebook privacy settings you should know about
Facebook privacy settings you should know about
1/6 Change who sees your posts.

Anything you post on Facebook - from a status update to a photo - can be given its own privacy setting. 'Public' means that the information can be found via Google, or you can create custom groups of friends (http://ind.pn/1bVJJ2H) to share info with. Remember: whatever setting you last choose will become default until you change it again.

2/6 Check what your friends are sharing about you.

Sometimes it's not you, but your friends that give information away. Follow this link to see the information that your friends might be sharing with third party apps - http://ind.pn/1bVVar6. Click the 'edit' option to the right of 'Apps other use' and un-tick every category of info you don't want to share. There's also an option above labelled 'Apps you use' that lets you select which apps can use your Facebook data elsewhere on the web. Don't trust them? Click the little cross on the right.

3/6 Hide old posts.

If you're keen to make your Facebook past more private, limiting who can see your old posts should be your first step. Follow this link - http://ind.pn/1bVK7hv - and click 'Limit The Audience for Old Posts on Your Timeline'. You can make all of these old photos and stats updates vieweable to the public, friends only, or just yourself. From this page you can also change who can send you messages and friend requests.

4/6 Create friend lists.

Since September 2011 Facebook has let you create different 'lists' of friends in order to let you separate what your close buddies and your work colleagues see. Facebook can give you a head start by suggesting lists based on who you went to school with and where people live - and you can even choose to browse a News Feed populated only by a certain list. Follow the link below for a full guide: http://ind.pn/1bVPu0d

5/6 Limit adverts.

Pages you like will sometimes be used by Facebook to endorse a product to your friends. If you don't wnat these to show up head to this page - http://ind.pn/1j6Mc2b - select "Pair my social actions with adverts for no one" and click Save Changes.

6/6 Check your profile.

If you're still worried about which of your photos or posts are visible to people you can check what the public (or any specific individual) sees when they click on your profile. View your profile by clicking on your namem then click the cog in the bottom right hand corner of your cover photo, then select 'View as...'
Khanna may have had his valuable internship taken away, but he said the experience has taiught him a lot - showing more about how tech giants like Facebook "respond to privacy issues and how that response may hurt users of their products."
He finishes his post by asking whether companies like Facebook will now be more aware of privacy issues, or whether users will continue to rely on "privacy guardians affecting change from the outside".
With Facebook constantly towing the line between mining users' valuable data while still making them feel secure on the site, such privacy conflicts are bound to crop up again in future.
Reuse content