Like many residents of Latvia, the people glued to their screens in a Soviet-era building tucked behind the Ministry of Defence in Riga have spent countless hours watching Russian television. But while most of their compatriots were engrossed in the plot lines of slick Russian soap operas, the analysts working for a Nato research centre had more cerebral intentions.
With an insurgency gripping eastern Ukraine and concerns that Russia is trying to expand its influence into other European nations, they wanted to find out how Kremlin-backed channels were spreading government narratives and potentially using media to achieve military goals.
"Nato understood that what we see happening in Ukraine and what Russia is doing is something they had not been looking at closely," says Elina Lange-Ionatamishvili, an expert at the Nato Strategic Communications (StratCom) Centre of Excellence, which opened in Riga last year and aims to help the alliance adapt to the challenges of a connected 21st century.
"It's about expansion of Russian media abroad… and keeping Russian-speaking communities under one political umbrella so whenever you need to – for political or military reasons – you can just trigger the right sentiments in these societies."
Relations between the West and Russia plummeted after Moscow annexed Crimea last year, and governments are worried that Kremlin-backed media could stir up unrest in other Russian communities. These concerns are particularly acute in nations such as Latvia, where 37 per cent of the population speak Russian. At the same time, governments are struggling to deal with the hydra-headed nature of the internet, with extremist groups such as Isis deploying social media and hacking to spread their messages and recruit fighters.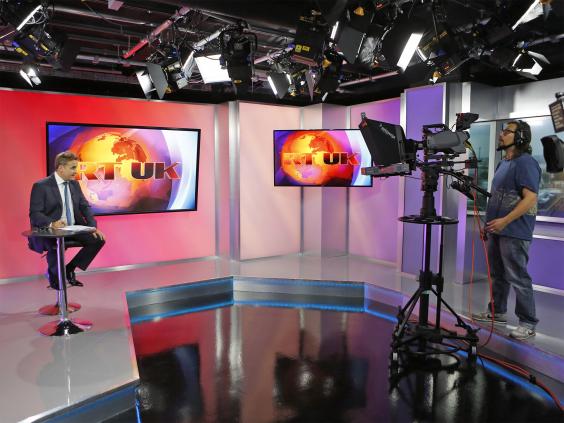 "In this day and age, you could argue that information warfare is more significant than actual military operations," says Matthew Bryza, a former US diplomat now working for the Estonia-based International Centre for Defence Studies. "If someone chooses to use force, that's decisive, that could end your life. But in terms of overall strategic efforts… it's the information space that's the real battlefield."
And while Russia is adhering to a decades-long strategic plan and other Nato adversaries are able to rely on religion or a coherent ideology to win hearts and minds, Western leaders have struggled with a lack of funding, political will and ideological splits.
"One side is fighting an information war right now, and the other side is not," says Mr Bryza. But governments appear to be waking up to the new challenges. The StratCom centre in Riga is the first Nato hub dedicated to information warfare. A number of EU nations have also raised the possibility of creating their own Russian-language TV station.
Such initiatives have riled Moscow, with Deputy Foreign Minister Alexey Meshkov telling the TASS news agency on Monday that they respected freedom of speech and were sceptical about any efforts at "counter-propaganda" from their neighbours.
Analysts agree that simply creating a Nato or EU mouthpiece would backfire, especially as the organisations – which rely on drawn-out consensus-building among different foreign policy perspectives – could struggle to even agree on their message.
"Given the multi-national complexity of these organisations, they do not lend themselves to concerted propaganda campaigns – especially counter-propaganda that invariably has to be disseminated very quickly in response to an issue," says David Welch, director of the University of Kent's Centre for the Study of War, Propaganda & Society and co-curator of the 2013 British Library exhibition, "Propaganda: Power and Persuasion".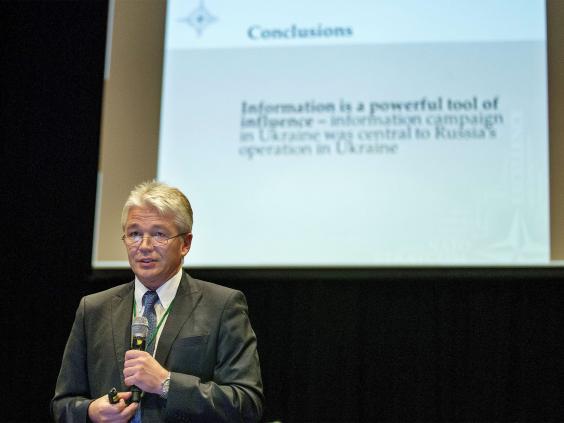 For Janis Karklins, the director of the Nato StratCom centre, the first step is to understand their target audiences. Their first report – the analysis of Russia's information campaign in Ukraine – was published at the end of last year and concluded that Russian media follows Kremlin foreign policy and uses historical narratives and nostalgia to appeal to Russian communities.
Mr Karklins' staff of diplomats, public affairs experts, psychologists and social anthropologists will this year study methods Isis uses to recruit fighters, the effectiveness of information warfare campaigns in Afghanistan, and the weaponisation of social media.
One conclusion Nato has already drawn is that its messages are not always reaching target audiences.
"Once we come to that conclusion, what can we do?" Mr Karklins asks. "Do we need to raise the white flag and say, 'We're so good, and that's why we cannot communicate [and] cannot penetrate mainstream media because we never say sensation but only truth and nothing but the truth'? Or can we do something to get our message across?
"That is our task, to identify how to do that, what that narrative might be [and] how to develop that narrative."
A key challenge in the coming years will be trying to reach the thousands of disaffected young men and women who may be susceptible to the messages from Islamist extremists. Up to 5,000 people from across Europe are now believed to be fighting in Syria, and the technical ability of Isis was demonstrated once again this week when a group of Isis sympathisers hacked the US military Central Command Twitter feed.
This represents a significant shift for an organisation used to operating in physical spaces rather than chat rooms and on social media. "Cyberspace is now a major battlefield and the so-called 'war' is one of ideas," says Mr Welch. "But again, I would stress that this is not a core 'battleground' for Nato."
The staff at the StratCom centre are hoping to challenge this mindset and harness the power of technology.
"What has to happen is there has to be a cultural shift in Nato," says Mr Bryza. "The centres of excellence do great research and ground-breaking thinking, but what matters is whether anyone takes the time to pick up the reports and to listen."
Reuse content