Mark Zuckerberg has announced that for the first time in the site's history, one billion people used Facebook in a single day.
The world population is currently estimated at around seven billion people, which means that one in seven people on the planet visited the site in a 24-hour period.
Zuckerberg, the 31-year-old co-founder, chairman and CEO of Facebook fittingly made the announcement in a status update on the site.
He wrote: "We just passed an important milestone. For the first time ever, one billion people used Facebook in a single day."
Mark Zuckerberg's signature look
Mark Zuckerberg's signature look
1/8

Mark Zuckerberg told a Q&A audience he doesn't like spending on "frivolous" decision and that includes his attire

2/8

The Facebook founder is often seen wearing Adidas flip flops, a gray T-shirt and a hoodie

Getty Images

3/8

That's Mark Zuckerberg wearing his signature gray shirt (again)

Getty Images

4/8

...And again

5/8

Zuckerberg showed up for Facebook's IPO wearing his favourite hoodie

REUTERS/Shannon Stapleton

6/8

Zuckerberg pictured with his wife, Priscilla, wearing THAT hoodie

EPA

7/8

Zuckerberg speaking at the TechCrunch Disrupt conference in San Francisco (in THAT hoodie again)

8/8

Mark Zuckerberg (centre) at the Facebook headquarters as he remotely rings the bell to open the Nasdaq

Getty Images
He added: "When we talk about our financials, we use average numbers, but this is different."
"This was the first time we reached this milestone, and it's just the beginning of connecting the whole world."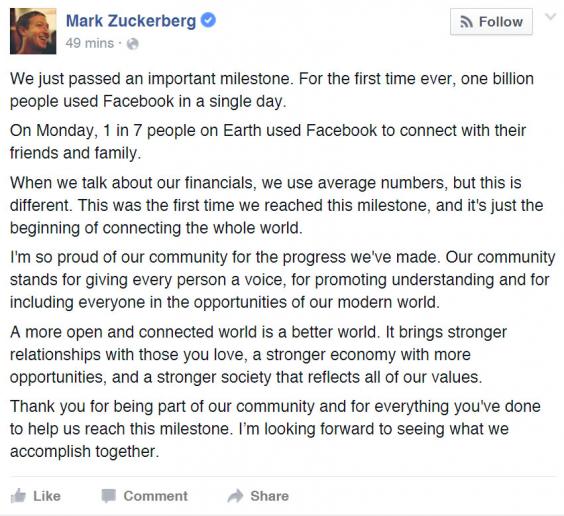 "A more open and connected world is a better world. It brings stronger relationships with those you love, a stronger economy with more opportunities, and a stronger society that reflects all of our values."
Zuckerbeg currently holds a 28 per cent stake in Facebook, and is its largest shareholder. Fellow co-founder Eduardo Saverin holds a 5 per cent stake, with the rest split up between other early investors and team members, and a number of different companies.
Zuckerberg, along with a small team, launched Facebook in February 2004 from a dorm room at Harvard University.
Since then, the site has exploded in popularity, making Zuckerberg one of Silicon Valley's wealthiest and most famous entrepreneurs. He currently has an estimated net worth of $42.5 billion (£27.6 billion).
Reuse content