The beauty treatments of the future will be suggested by computers that analyse your face and skin to pick out your flaws.
Panasonic has a new smart mirror that can analyse your face and find its flaws, as well as allow you to try out new hair and beards, which it showed off at this week's Consumer Electronics Show.
And a smaller gadget, Oku, calls itself a "personal skin coach" and is held against the skin so that it can analyse what's wrong with it and suggest what's needed to "achieve a youthful, healthy glow". It scans the skin and then sends the results to a phone app, which tells you what you need.
The Panasonic virtual mirror uses built-in cameras to analyse your face, then suggesting what hairstyles and make up will compliment it. It can show those options superimposed on your face, using a screen that projects onto the mirror.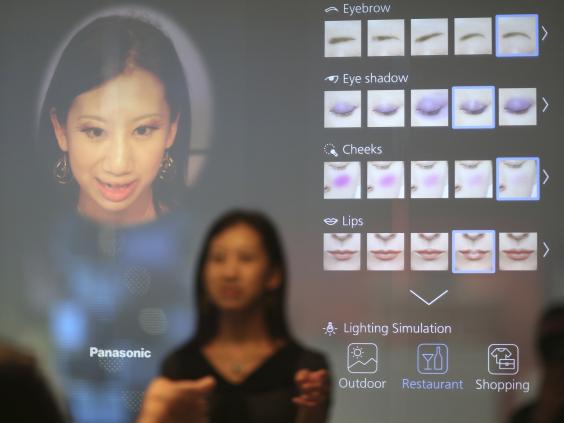 It will even see spots and wrinkles on your skin, and suggest options for covering them up.
The company said that it wasn't a gimmick, but a piece of serious technology that will help make-up retailers "engage their customers". It also has applications for the clinical and education market, Panasonic said.
Panasonic hasn't said when it will sell the device, or whether it will be made available to consumers or make-up companies.
Oku is a small box, which is held up to the skin to analyse it.
The company's website lays out its "philosophy": "for the skin you've never quite understood, we can give you a new tool that looks deeper".
The Oku can be pre-ordered from the company's website now, for $249.95 (£165).
Reuse content