As the space shuttle Challenger roared away from Earth on 28 January 1986, only CNN was covering it live for a national audience.
For 73 seconds, viewers saw only the orbiter and its rocket boosters, the orange tail beneath, the blue sky above. Then came the upward cascade of smoke and fire, the comets of debris. The narration from NASA droned on for a few more moments ("One minute 15 seconds, velocity 2,900 feet per second…") — but soon came the muffled cries of alarm, then the low thunder of the explosion.
In the next day's newspaper, Washington Post TV critic Tom Shales wrote about the experience of watching the doomed launch — over and over — as the networks began their rolling coverage.
Check out his first line: It perfectly prophesied the 21st century's obsession with replay and looping of major disasters, and our new rituals of public grief on social media.
Horror of the fire in the sky: Cruel visions, over and over, bring the nightmare home
By Tom Shales
Washington Post Staff Writer
Jan. 29, 1986
We may not be able to believe that something truly terrible has happened anymore unless we see it six or seven times on television. Yesterday, something truly terrible happened, the explosion soon after liftoff of the space shuttle Challenger, and the three networks, each sustaining marathon coverage during most of the day, played, replayed and re-replayed videotaped footage, sometimes in slow-motion, sometimes frame by agonizing frame, of this truly terrible occurrence.
Maybe on the 10th or 20th replay, you think as you watch, it won't happen. Maybe this time the shuttle will continue its upward climb and not disappear in a cloudy ball of fire. As NBC News anchor Tom Brokaw said late in the day, looking back at the hour when the story first broke, "We were all suspended for a time between a state of belief and disbelief." Finally, belief takes over.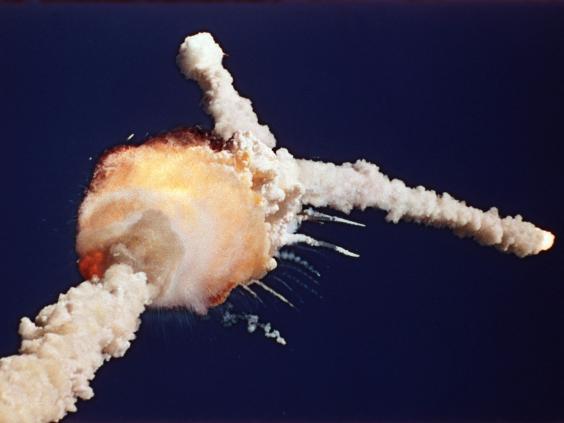 For several hours, the networks dropped all commercials, concentrating exclusively on coverage, as they did in 1963 when President Kennedy was assassinated. Network anchors, during prolonged crises like this, aren't there just to impart or repeat information; they become, in a sense, national hand holders, figures of supportive strength. None was stronger yesterday nor more supportive than Dan Rather of CBS News, who logged 5 1⁄2 continuous hours on the air, starting at 11:45 a.m. when he went on live from a "flash studio," reserved for bulletin news, off the CBS news room in New York.
Without makeup, without even his contact lenses at first, Rather seemed initially disoriented and harried, which was the way a viewer felt upon learning that a launch of the space shuttle, now such casual features of the American landscape that the networks no longer carry them live (only the Cable News Network aired the launch live yesterday), had gone horribly awry.
All three network anchors rose to the occasion and performed admirably over long stretches of time, mobilizing vast communications technologies to communicate a great breakdown in technology. Brokaw, who had been attending a White House briefing on the State of the Union message when the news from Cape Canaveral came in, rushed back to NBC's Washington studios and was on the air at 12:11 p.m. ABC's Peter Jennings somewhat awkwardly joined, then later replaced, morning anchor Steve Bell at 12:04.
Nasa's most stunning pictures of space
Nasa's most stunning pictures of space
1/30 Earth from the ISS

From the International Space Station, Expedition 42 Flight Engineer Terry W. Virts took this photograph of the Gulf of Mexico and U.S. Gulf Coast at sunset

Nasa

2/30 Frosty slopes of Mars

This image of an area on the surface of Mars, approximately 1.5 by 3 kilometers in size, shows frosted gullies on a south-facing slope within a crater. The image was taken by Nasa's HiRISE camera, which is mounted on its Mars Reconaissance Orbiter

Nasa

3/30 Orion Capsule splashes down

The Orion capsule jetted off into space before heading back a few hours later — having proved that it can be used, one day, to carry humans to Mars

Nasa

4/30 The Soyuz TMA-15M rocket launch

The Soyuz TMA-15M rocket launches from the Baikonur Cosmodrome in Kazakhstan on Monday, Nov. 24, 2014, carrying three new astronauts to the International Space Station. It also took caviar, ready for the satellite's inhabitants to celebrate the holidays

Nasa

5/30 Yellowstone from space

NASA astronaut Reid Wiseman shared this image of Yellowstone via his twitter account

Nasa

6/30 Black Hole Friday

Nasa celebrated Black Friday by looking into space instead — sharing pictures of black holes

Nasa

7/30 NuSTAR

X-rays stream off the sun in this image showing observations from by NASA's Nuclear Spectroscopic Telescope Array, or NuSTAR, overlaid on a picture taken by NASA's Solar Dynamics Observatory (SDO)

Nasa

8/30 Saturn

This near-infrared color image shows a specular reflection, or sunglint, off of a hydrocarbon lake named Kivu Lacus on Saturn's moon Titan

Nasa

9/30 Worlds Apart

Although Mimas and Pandora, shown here, both orbit Saturn, they are very different moons. Pandora, "small" by moon standards (50 miles or 81 kilometers across) is elongated and irregular in shape. Mimas (246 miles or 396 kilometers across), a "medium-sized" moon, formed into a sphere due to self-gravity imposed by its higher mass

Nasa

10/30 Solar Flare

An X1.6 class solar flare flashes in the middle of the sun in this image taken 10 September, captured by NASA's Solar Dynamics Observatory

Nasa

11/30 Solar Flare

An image from Nasa's Solar Dynamics Observatory (SDO) shows a 200,000 mile long solar filament ripping through the Sun's corona in September 2013

Nasa

12/30 Cassiopeia A c

A false colour image of Cassiopeia A comprised with data from the Spitzer and Hubble Space Telescopes and the Chandra X-Ray observatory

Nasa

13/30 Large Magellanic Cloud galaxy

An image of the Large Magellanic Cloud galaxy seen in infrared light by the Herschel Space Observatory. Regions of space such as this are where new stars are born from a mixture of elements and cosmic dust

Nasa

14/30 Mars Rover Spirit

Nasa's Mars Rover Spirit took the first picture from Spirit since problems with communications began a week earlier. The image shows the robotic arm extended to the rock called Adirondack

Nasa

15/30 Morning Aurora From the Space Station

Nasa astronaut Scott Kelly captured this photograph of the green lights of the aurora from the International Space Station

16/30 Launch of History - Making STS-41G Mission in 1984

The Space Shuttle Challenger launches from Florida at dawn. On this mission, Kathryn Sullivan became the first U.S. woman to perform a spacewalk and Marc Garneau became the first Canadian in space. The crew of seven was the largest to fly on a spacecraft at that time, and STS-41G was the first flight to include two female astronauts

17/30 A Fresh Perspective on an Extraordinary Cluster of Galaxies

Galaxy clusters are often described by superlatives. After all, they are huge conglomerations of galaxies, hot gas, and dark matter and represent the largest structures in the Universe held together by gravity

18/30 Veil Nebula Supernova Remnant

Nasa's Hubble Space Telescope has unveiled in stunning detail a small section of the Veil Nebula - expanding remains of a massive star that exploded about 8,000 years ago

19/30 Hubble Sees a Galactic Sunflower

The arrangement of the spiral arms in the galaxy Messier 63, seen here in an image from the Nasa Hubble Space Telescope, recall the pattern at the center of a sunflower

20/30 A Hubble Cosmic Couple

The spectacular cosmic pairing of the star Hen 2-427 — more commonly known as WR 124 — and the nebula M1-67 which surrounds it

21/30 Pluto image

Four images from New Horizons' Long Range Reconnaissance Imager (LORRI) were combined with colour data from the Ralph instrument to create this enhanced colour global view of Pluto

22/30 Fresh Crater Near Sirenum Fossae Region of Mars

The HiRISE camera aboard Nasa's Mars Reconnaissance Orbiter acquired this closeup image of a "fresh" (on a geological scale, though quite old on a human scale) impact crater in the Sirenum Fossae region of Mars. This impact crater appears relatively recent as it has a sharp rim and well-preserved ejecta

23/30 Earth Observations From Gemini IV in 1965

This photograph of the Florida Straits and Grand Bahama Bank was taken during the Gemini IV mission during orbit no. 19 in 1965. The Gemini IV crew conducted scientific experiments, including photography of Earth's weather and terrain, for the remainder of their four-day mission following Ed White's historic spacewalk on June 3

24/30 Nasa Celebrates 50 Years of Spacewalking

For 50 years, NASA has been "suiting up" for spacewalking. In this 1984 photograph of the first untethered spacewalk, NASA astronaut Bruce McCandless is in the midst of the first "field" tryout of a nitrogen-propelled backpack device called the Manned Maneuvering Unit (MMU)

25/30 Hubble Peers into the Most Crowded Place in the Milky Way

This Nasa Hubble Space Telescope image presents the Arches Cluster, the densest known star cluster in the Milky Way

26/30 An Astronaut's View from Space

Nasa astronaut Reid Wiseman tweeted this photo from the International Space Station on 2 September 2014

27/30 Giant Landform on Mars

On Mars, we can observe four classes of sandy landforms formed by the wind, or aeolian bedforms: ripples, transverse aeolian ridges, dunes, and what are called "draa"

28/30 Expedition 39 Landing

A sokol suit helmet can be seen against the window of the Soyuz TMA-11M capsule shortly after the spacecraft landed with Expedition 39 Commander Koichi Wakata of the Japan Aerospace Exploration Agency (JAXA), Soyuz Commander Mikhail Tyurin of Roscosmos, and Flight Engineer Rick Mastracchio of NASA near the town of Zhezkazgan, Kazakhstan

29/30 Jupiter's Great Red Spot Viewed by Voyager I

Jupiter is the largest planet in the solar system and perhaps the most majestic. Vibrant bands of clouds carried by winds that can exceed 400 mph continuously circle the planet's atmosphere

30/30 Chandra Observatory Sees a Heart in the Darkness

This Chandra X-Ray Observatory image of the young star cluster NGC 346 highlights a heart-shaped cloud of 8 million-degree Celsius gas in the central region
The footage of the explosion was played by each network too many times to count. But there was other footage, just as cruel, including shots of observers watching at Cape Canaveral as the mission ended in nightmare. Among them were the parents of Christa McAuliffe of Concord, N.H., the brave civilian who was to become the first "teacher in space." We watched as members of her family learned what we already knew. We were all joined in being stunned together.
McAuliffe was the crew member of whom the general public was most likely to be aware, although the crew seemed a remarkable cross section: another woman astronaut, a black astronaut, a Hawaiian astronaut and a civilian businessman, among the others. The thing that seemed to make the story most painful as the day went on was the presence of the teacher.
By virtue of having been selected for the mission, McAuliffe became Everyteacher, a symbol of a profession whose business, after all, is the future. You may have felt as you watched that this was not only Ms. McAuliffe on board. She was Miss Murdock who taught you multiplication tables in the third grade. She was Mrs. Petersen, who taught you not to split infinitives. She was Mr. Alft, who thrilled you with a meaning of the Bill of Rights. No wonder we sat there absolutely devastated by the news that television was obliged to bring us.

It is part of the new video reality that when almost anyone celebrated dies, we see soon afterward crisp taped footage of that person alive and vibrant, which is how McAuliffe and astronaut Judy Resnik and the others on board looked yesterday when the footage was played on the air in memoriam. A camera had been stationed in Concord to record the reaction of high school students there as they watched the launch and as, heartbreakingly, their giddy high spirits turned to surpassing sorrow. They sat there in party hats looking anguished and betrayed. On a day like this, America is a small town, a community of grief, and it rallies around television to give it not only news but hope. Network news anchors and correspondents, among the most frequently criticized of all public professionals, performed superbly yesterday.
In the scramble to cover the tragedy, each network showed some evidence of resourcefulness on the air. NBC News brought in a child psychologist to advise parents on how they might help children adjust to the traumatic news of the day. ABC had former astronaut Gene Cernan live from Houston to narrate slow-motion replays of the explosion and explain as much as possible what might have caused it. CBS had test pilot Leo Krupp brought in for the same chore.
"The CBS Morning News" was already in Miami Beach for a week of special broadcasts from that city. After yesterday's broadcast, which ended before the launch, anchors Forrest Sawyer and Maria Shriver and five vans full of equipment were transported to the cape for today's follow-up coverage, with all previously planned segments of the program scrubbed for now. All three networks planned late prime-time reports on the explosion last night, and ABC News expanded "Nightline" to an hour.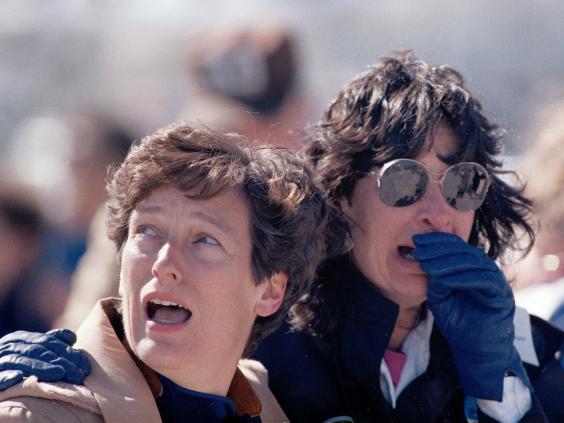 Not every word or gesture was well-considered during the coverage. ABC News correspondent Lynn Sherr, at the jet propulsion lab in Pasadena, Calif., for coverage of the Voyager 2 Uranus probe, appeared incongruously jolly and smiley on the air. A sour wrong note. Jennings kept talking during live coverage of reaction from former space traveler Sen. Jake Garn (R-Utah), telling viewers "we don't need to hear him" to know what he was saying; but then Jennings stopped talking and we did hear him. Brokaw may have been out in left field when he speculated that critics of President Reagan's Strategic Defense Initiative project would use the shuttle calamity as evidence of "just how wrong things can go in space." Rather, alerting viewers to the upcoming statement from the White House, said "President Nixon" would be making it, then quickly corrected himself.
Earlier, though, Rather more than once achieved the kind of common-man eloquence that makes him not only a valued source of information at a time like this, but a valued companion, someone of authority and yet camaraderie. At one point, he quoted what he said was an old sailor's expression: "Thy sea is so great, and my boat so small." He later read a poem by a former astronaut over footage of the Challenger crew on tape, preparing for the voyage that would end in a holocaust.
The profile of the crisis seemed somehow classic, reminiscent of the convulsive day in 1981 when Reagan was the victim of an assassination attempt. First came the initial shock of the news. Then the event was replayed over and over until it penetrated the national consciousness, rising in impact with each replay until, inevitably, it reached a point of diminishing returns. Then word came from the White House that the president's State of the Union address, contrary to official pronouncements of only moments earlier, would be postponed, so profound seemed the effect of the tragedy on the viewing nation. Perhaps the fact that all three networks stayed on the air with the story instead of returning to regular programming had an added impact on the White House decision. "The president," said Larry Speakes, "like everyone else, watched this on television."
By midafternoon, disc jockeys, at least one in Los Angeles, were dedicating songs to the memory of those who died in the crash. Some local stations, on their evening newscasts, were including stories about how Americans watched the crisis on TV. Very quickly, television reorders American life and creates American lore.
Senator and former astronaut John Glenn, interviewed in Washington, said, "This is a day we've managed to avoid for a quarter of a century . . . we hoped we could push this day back forever." Second-day coverage today, the aftermath phase of the disaster, may see a good many news people chasing astronaut families — particularly the family, friends and students of Christa McAuliffe — for tearful sound bites to be played and replayed on newscasts to come. But yesterday, during yet another long vigil before the set, the networks acted admirably and with distinction. President Reagan said, "Today is a day for mourning and remembering," but it was also, of course, a day for watching, and for not wanting to believe what one saw.
© Washington Post
Reuse content