A high-tech electronic bike helmet that could help cyclists stay safe on the road has met its funding target on crowdfunding site Kickstarter within hours of its launch.
The Lumos helmet, developed by Eu-wen Ding and Jeff Chen, two Harvard graduates, has been worked on over the course of a year with helmet expert Peter Macon. It promises to help drivers pay more attention to cyclists by using features commonly found on cars.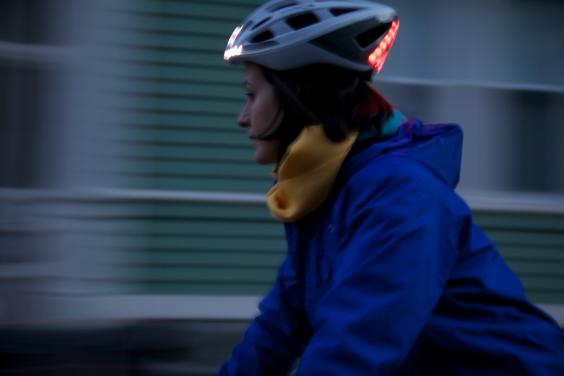 Two large and bright arrows, neatly built into the helmet's design, can be controlled wirelessly by buttons mounted on handlebars. They flash when activated, pointing in the direction that the cyclist is about to turn.
A red brake light, mounted just under the indicators, works using an accelerometer - it senses when the cyclist is slowing down, and activates the brake light automatically.
And on the other side, an array of bright white LEDs adorn the front of the helmet, helping the cyclist get noticed by approaching cars, and making it easier for them to see where they are going.
The helmet is charged via a USB connection, and one charge should last a week if Lumos owners are using the lights on their helmet for 30 minutes a day. It's also fully waterproof, and meets American and European safety standards.
Despite the speed of cycling over to public transport, especially in London, and the numerous environmental and health benefits, many people are discouraged from cycling on city streets due to the perceived danger.
According to the Royal Society for the Prevention of Accidents, 109 cyclists were killed in road accidents in the UK in 2013. Over 3,000 were seriously injured, and around 16,000 were slightly injured.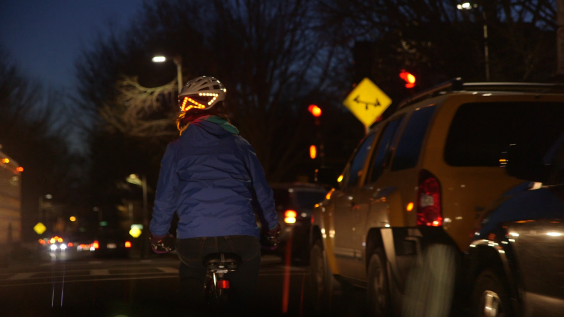 Flashing lights can really help drivers spot cyclists in the dark, but in low-light conditions, it can be difficult to track the speed of the cyclist and the direction they are moving in. The Lumos hopes to get rid of this difficult problem, by including safety and visibility features that have been standard in cars for decades.
The Lumos team set a $125,000 (£80,039) target on crowdfunding site Kickstarter, where consumers interested in a product can help it get off the ground by giving money to the creators, often receiving perks depending on how much money they give.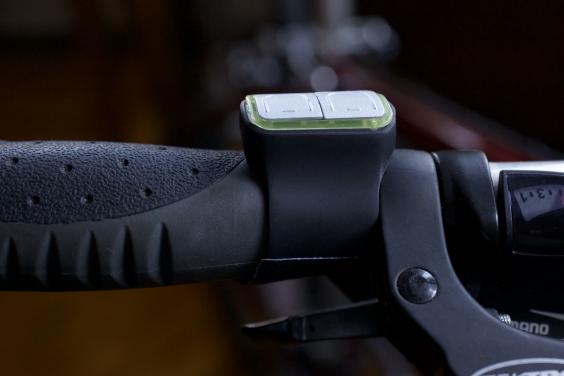 The Lumos helmet's crowdfunding campaign began on 14 July, and met its target the next day. At the time of writing, the funding target has been surpassed even further, and the team has currently received $214,904 (£137,617) from enthusiastic customers.
Ding said the team were "thrilled" to have passed their funding goal so early, and said he "can't wait to get Lumos onto backers' heads".
Currently, the team plans to start sending helmets out to their Kickstarter backers from April 2016 for those who got the early bird deal - others will have to wait until June next year to get their hands on the helmet.
Reuse content