Facebook has estimated that individuals are only 3.57 degrees of separation away from any other person on the planet.  
Using data from its 1.59 billion users, statistical algorithms were used to estimate the number of unique users whose 'friends' did not overlap and the distance between the different users.  
The majority of people on the social media site have averages of between 2.9 and 4.2 degrees of separation, Facebook said.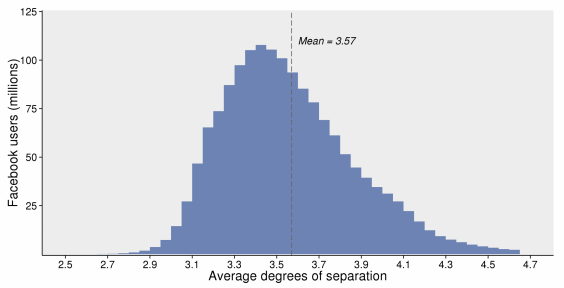 Mark Zuckerberg, founder and chief executive of Facebook, was found to have 3.17 degrees of separation between him and everyone else. However, the company's Chief Operating officer, Sheryl Sandberg, had just 2.92 degrees of separation.  
A similar study carried out in 2011 by Facebook, Cornell University and The University of Milan found the average instances of interconnectedness between users was 3.74.  Facebook had 721 million users at the time.
Gadgets and tech news in pictures
Gadgets and tech news in pictures
1/10 New HTC Desire 626 handset launch

HTC has launched its latest Desire 626 handset with the Sense 7 software which automatically detects whether you're at work, at home or on-the-go and alters its theme to suit your location. This advanced technology intelligently analyses your favourite photos to modify the look and feel of your apps, allowing you to modify the colour scheme and backgrounds – the ultimate in personalisation

HTC/Mikael Buck

2/10 Nasa confirms Mars water discovery

Nasa has announced that it has found evidence of flowing water on Mars. Scientists have long speculated that Recurring Slope Lineae — or dark patches — on Mars were made up of briny water but the new findings prove that those patches are caused by liquid water, which it has established by finding hydrated salts.

3/10 Customers wait in line at the Apple Store in Paris to get their hands on the iPhone 6s

Several hundred camped outside the London store in Covent Garden. The 6s will have new features like a vastly improved camera and a pressure-sensitive "3D Touch" display

4/10 Bloodhound SSC: The most powerful ever made is shown off to the public

The car is displayed at Downing Street, when the team visited David Cameron to demonstrate the project.

Andrew Griffin

5/10 Lunar eclipse threatens Nasa technology

Artist's rendering of Nasa's LRO spacecraft, which will have to withstand a rapid drop in temperature during an upcoming lunar eclipse that could lead to it shutting down.

NASA

6/10 Mobile phone bills could rocket up after Ofcom announced that the fees it charges to phone operators will be trebled

The regulator will now charge far more to phone companies for using the mobile spectrum — and though it says that fee will not be passed on to customers, experts have said that prices are likely to go up.

2007 Getty Images

7/10 New iPhone 6s rose gold

Apple has released a bright pink new iPhone 6s — likely the only way that you'll be able to tell that someone has the new handset. The company released the new phone with much fanfare, but almost all of the changes — a new camera and pressure-sensitive display — were on the inside. The only new noticeable addition to the phone's look is the very pink rose gold colour, and a tiny "S" on the back. The new handsets will be released on September 25

8/10 iPad Pro

Apple has launched a huge new iPad, which it hopes can bring the tablet to offices and designers. But it unveiled it with an Apple-designed stylus — an idea that was famously mocked by late Apple founder Steve Jobs

9/10 Apple TV

Apple has introduced the new Apple TV

10/10 Apple Pencil

Apple has introduced the new Apple Pencil
As the average instances of interconnectedness between people have decreased, the world has become more closely linked, Facebook says.  
However, the research does not reflect the world's total population, which was estimated by to stand at 7.3 billion in July 2015 by the UN.  
Commentators also point out some people also have 'friends' on Facebook who they have not met in real life.
Reuse content