With a tagline of 'Where cultural apocalypse meets environmental disaster' you just know that Los Santos - the fictional setting for GTA 5 - is going to be a great city to visit.
Now, to further excite fans ahead of the game's September 17th release date, Rockstar have released an interactive travelogue for Los Santos and the surrounding Blaine County – the game's parodic take on Los Angeles and Southern California.
Here's what to look forward to:

The GTA series has always loved to inject a little bit of satire into their game worlds, and the travelogue's inclusion of two political campaign videos shows that they're stepping this up for the latest instalment.
Promising that players will be visiting "in the midst of the current gubernatorial race", Rockstar have created conservative Jock Cranley and liberal Sue Murry – two candidates who embody a whole range of US politic's worse and most ridiculous trends.
"I hate immigrants, the crippled. I can't stand unions, cops, old ladies. The thing is at least you know I'm a d**k," says Cranley, the conservative challenger for the gubernatorial race. "Listen," he continues, "I've base jumped off sky-scrapers: I understand the intricacies of city planning."
In comparison Murry is simply an interfering, patronising hypocrite, with her own video boasting that "Sue Murry has been talking down to people has been talking down to people for years, and now she wants to talk down to you."
Of course, this is just so much window-dressing, but I'm hoping at least a couple of side-quests will involve some nefarious deals undertaken for these fine, upstanding candidates.

Simon Yetarian of Premium Deluxe Motorsport really wants to sell you a car, and I mean really wants to sell you a car: "Look at this car and ask yourself what price would you place on style, status and sophistication? Then forget that price because I offer flexible payment schedules to suit any budget,"
"Don't let society and banks tell you what you can and can't afford. No credit? No problem! You're approved! I want everyone to live the American dream just like me."
Only a selection of Yetarian's range of high-end vehicles is on display, but their names show that GTA 5 will include all the traditional hyperbole of the series. There's the Benefactor Feltzer, the Obey Tailgater and the Coil Voltic (the most recognisable homage, styled after the Tesla Model S.
But the promise of 'Fast Cars at your Fingertips' means just one thing for GTA gamers: remember this location, and head back later with a crowbar.

Making a return from GTA: San Andreas is Cris Formage (above), the leader of the definitely-not-a-cult-no-seriously-stop-saying-we're-a-cult Epsilon Program.
 The organization is described by Formage himself as simply "a fellowship of like-minded adults who tithe money in exchange for salvation and merit badges" and is definitely in no way related to scientology.
It seems the Epsilon Program have now stepped up their recruiting drive for GTA 5, with a new website, Twitter feed and deluxe screensaver. For the uninitiated, here's a couple of highlights from the Epsilon Program's 12 Tenets of Kifflom:
The world is 157 years old - FACT!
Dinosaurs are a lie that people believe because they are weak - FACT!
Trees talk, but only some people hear them - FACT! 

People who believe in something live much longer than atheists, and they have eternal life thrown in for good measure - FACT!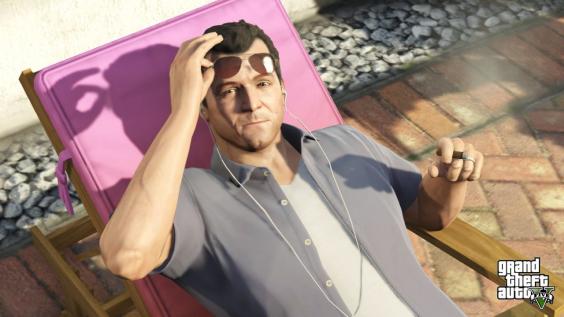 Without wanting to spoil the rest of the website (click here to check it out), there's also the usual array of custom car shops, and some re-caps of the great outdoors. From hunting deer to scuba-diving, GTA 5 looks set to be one the most diverse game worlds in the series.
Rockstar will also be releasing the first video preview of GTA Online at 3pm GMT – stay tuned here for a break-down of what's on show.