Today is the fifth anniversary of Amazon launching its Kindle store in the UK. In that time the number of titles available for electronic reading via Amazon has risen from 400,000 to almost 4 million. These include everything from self-published titles to the latest blockbusters.
Electronic books are well-suited to holidays. We always imagine we're going to have time to read: on the plane, by the pool or just around the house on a staycation.
Of course, in reality, movies can be a distraction in the air, sunbathing is mostly spent with our eyes closed, and home holidays are governed by those hundreds of little jobs we've been meaning to get round to.
Still, an ebook reader, though still not as good as a real book, comes into its own on holiday. Dedicated readers with electronic paper displays – as opposed to tablets with backlit LCD screens – are particularly useful as you can read them through sunglasses while sun beats down on the screen. Ebook readers have batteries that last weeks, not hours, which is handy on holiday.
The other advantage over an iPad is you can immerse yourself in your book and not be tempted to check your email every few minutes…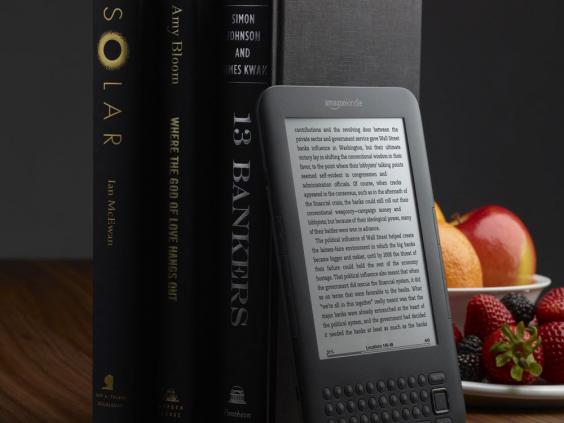 Of course ebook readers are supremely portable – the latest Kindle Paperwhite weighs 205g and can store literally thousands of books. When you finish one book you can download another in under a minute without leaving poolside, assuming you can get a wi-fi signal or in some cases 3G.
Kindle isn't the only game in town, of course. US bookstore Barnes & Noble has a highly competent reader called the Nook Glowlight which has a tactile rubberised frame that's comfortable even if your hands are slathered in factor 30.
A recent addition is the Kobo Glo HD (£109.99) which has a six-inch high-resolution screen: 300 pixels per inch, almost double the resolution of earlier models and almost as sharp as printed paper. Almost.
It's light, too, at 180g. It has a touchscreen that works by infra-red, so when you touch the display you interrupt infra-red beams to tell the device which word you're trying to highlight, say.
This has an advantage over a traditional capacitive touchscreen, the sort found on most smartphones, because capacitive screens only recognise fingers. This screen recognises any touch so you could be wearing gloves as you read. Skiing holiday reading, here we come.
Kobo's range of books is enormous, there's a bunch of fonts to choose from (10) and Kobo's system includes reading stats in great detail, which many readers will like. Plus, it uses the ePub system which everyone except Amazon favours so previously-bought books from ePub compatible readers will be readable here. Storage on the Glo HD is 4GB, twice that of some rivals, though whether you really need to carry 3,000 books at a time is another matter – how long is this holiday, anyway?
There's one other benefit over an Amazon Kindle: the power button. On Kindles this sits at the base of the screen and it's just a little too easy to inadvertently touch as you loll on the beach. On the Kobo Glo HD it's safely out of reach on the reader's top edge.
Still, the current Kindle range is impressive. The basic Kindle is now just £62.99, or £53.99 if you don't mind seeing a "special offer", that is an advert, onscreen every time you turn it on. This Kindle has a lower resolution display and no front light so you can't read in dark rooms as you can with the Kobo Glo HD and other Kindles.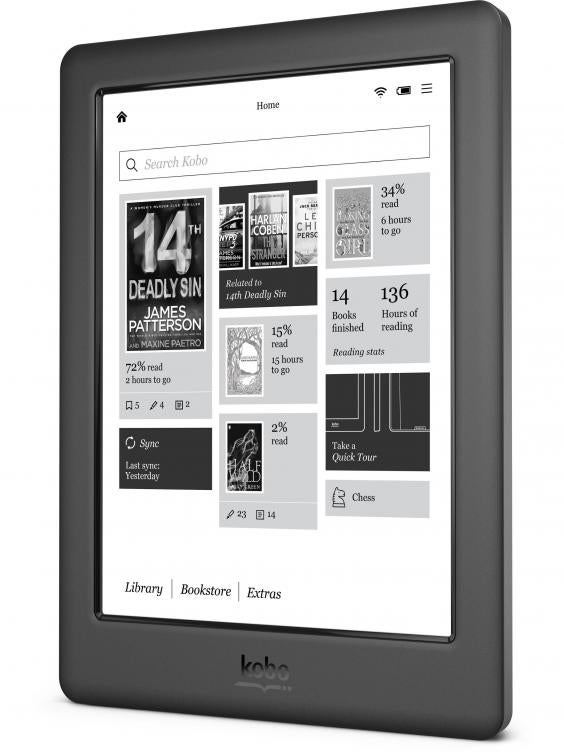 There's also the top-of-the-range Kindle Voyage which is superbly designed and has the same 300ppi screen resolution as the Kobo Glo HD. It costs £169.99 or £229.99 for the model with unlimited access to 3G included so you can download books even without a wi-fi network.
In between is the excellent Kindle Paperwhite, from £98.99 which matches the display quality of the Kobo Glo HD or Kindle Voyage.
It uses the latest technology to minimise the intrusive flashing that happens when an e-paper screen refreshes itself. Those flashes are far fewer than on earlier ebook readers.
Amazon has some neat navigation features. If you're reading a book with footnotes, switching to the back-of-the-book notes can leave you feeling at sea, uncertain you'll get back to the right page afterwards (another benefit of sticking your thumb in to hold your place in a real book). Here, the footnote appear on the same page which is much more reassuring.
There's a new font designed specifically for digital screens and an improved typesetting engine on the way which adds support for drop capitals and line justification to make it easier to read.
As a combination of features and value, the new Paperwhite is supreme, though if you favour the open ePub format or don't want to buy into the Amazon walled garden, Kobo's Glo HD is elegant, effective and highly appealing.
Reuse content