Giles Coren caused controversy by referring to Amazon Prime's auto-renewals as "corporate rape". But aside from the wording, Coren was bringing attention to a problem that has been reported by many — knowingly or unknowingly signing up to Amazon's premium service, and then not opting out once it comes to be time to pay again.
Amazon has made Prime — which offers next day delivery and streaming TV, among other services — relatively easy to cancel. But since it's auto-renewing, and takes payment once a year, it's possible to subscribe to it when you don't want to.
To get off the service, which costs £79 a year, head to "Your Account" at the top right hand corner of the Amazon homepage.
There you'll be greeted by a page full of options about your Amazon account.
Scroll down until you see the Settings page, where you can click on "Manage Prime Membership".

Click there and you'll be given the option to "End Membership", alongside a set of information about when your membership renews and who it has been charged to.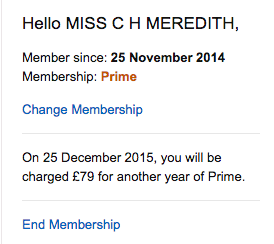 Clicking the "End Membership" button will stop your Amazon Prime.
It might not happen immediately, though. If you've already used it, or you're some way through your membership, Amazon will stop future payments but keep you on the service until it runs out.
If you've recently signed up to it and haven't used it much, Amazon will usually refund you — and it might do so even if you've used it only a little, or not been on it long.