The news that Angela Ahrendts will be leaving her role as CEO of Burberry in mid-2014 is not in itself so unusual, as fashion chiefs switch allegiances faster than flicking through Vogue. What is different about Ms Ahrendts' departure, however, is that after 30 years she's leaving the fashion business entirely – to join Apple.
In a very Burberry fashion, the news wasn't just camped out via press release, but rather via a YouTube link of Ms Ahrendts discussing the move with Burberry Chairman Sir John Peace – alongside Christopher Bailey, Burberry's Chief Creative Officer who will take on the mantle of CEO.
The move seems leftfield, but then she has been a fundamental force  in transforming Burberry into "a world leading digital luxury brand," as they're marketing themselves.
Digital has become an enormous part of Burberry's identity: their last show came with a digital fact-sheet of almost 3,000 words, detailing the brand's interactive and social media campaigns and use of technology in the presentation and retail of their collections. And in 2010, the brand received the inaugural Digital Innovation Award at the British Fashion Awards – no one has received it since.
In turn, fashion appears to now be a key part of Apple's digital world, as Ms Ahrendts is not the firm's first high-profile lure away from the world of clothing design. Paul Deneve, former CEO of Yves Saint Laurent, moved to the company in July, while Mickey Drexler, the CEO of J Crew, is also on the tech giant's board.
So what are Apple up to? Fashion designer Karl Lagerfeld has created iPad carry-cases and suitcases to hold a dozen iPods as part of his collections for Fendi, while Hedi Slimane designed holders for the device as early as 2001.
Perhaps we should have seen this coming. There had been a subtle hint of Ms Ahrendts' move at Burberry Prorsum's spring/summer 2014 womenswear show when the label partnered with Apple to use the iPhone 5s to capture images and video and share digitally. Persistent rumours that Apple itself is expanding into "wearable" technologies are only compounded by these high-level high-fashion hires.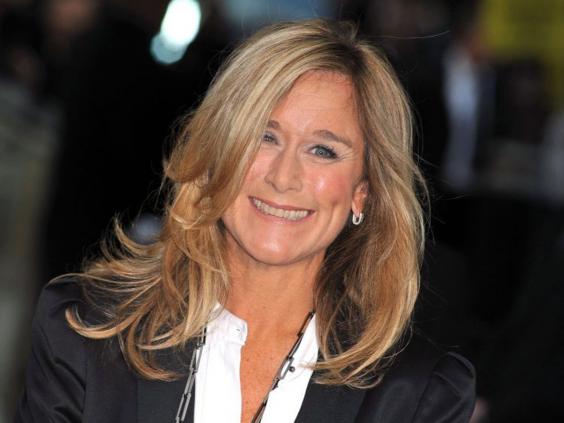 In July, after Mr Deneve's move, Apple filed an application for an iWatch trademark in Japan, while in May, at AllThingsD's D11 conference, Apple CEO Tim Cook dubbed the wearable tech industry "ripe for exploration".
They are not alone in pursuing input from the fashion world. GoogleGlass is the highest-profile exploration of recent years, showcased at Diane Von Furstenberg's spring 2013 show and sported not only by the models, but by Von Furstenberg herself, alongside Google co-founder Sergey Brin.
Burberry's shares fell 6 per cent when Ahrendts' departure was announced. That was despite also announcing that total sales had climbed 14 per cent to £1.03 bn in the six months to 30 September, driven partly by demand for its outerwear, such as the famous trench coat, and large leather goods. Her replacement has no board-level experience, nor specific business training. Mr Bailey doesn't hold an MBA and joins a relatively tiny roster of designers who also serve as CEO – Giorgio Armani, Ralph Lauren, Vera Wang. He is also the first designer-cum-CEO who didn't found the company.
But it doesn't necessarily mean doom and gloom. Mr Bailey has helmed Burberry's creative side since 2001, under the title Chief Creative Officer for the past six years. In that role, he's been responsible for everything from marketing, to store design, to consumer technology and digital innovation. And, of course, the design of the garments themselves. Ironically, what we normally recognise as the role of a fashion designer is only a fraction of what Bailey has been dealing with.
Is it such a giant leap to encompass CEO too? Probably not. And Apple will hope the same is true of Ms Ahrendts' move into technology.
Who else has Apple poached from fashion?
One of the biggest transfers between the fashion and tech world came this summer when Apple poached Yves Saint Laurent boss Paul Deneve.
Deneve, a 53-year-old Belgian, is a marketing and brand image expert is thought to have been picked to help develop Apple's expected iWatch project, which some analysts see as the firm's next game-changing product in the mold of the iPad and iPhone.
To a casual observer, this might appear to make as much sense as Manchester United's Wayne Rooney being tapped to play American football for the Dallas Cowboys. But his role is to ensure any new product has design appeal. The iWatch, for example, would have to compete for wrist-space with established luxury brands like Rolex.
And if you want something to be stylish, Deneve is exactly the sort of executive you need, given revenues at Yves Saint Laurent nearly doubled under his tenure. And it helped that he had served as a sales and marketing manager at Apple Europe from 1990 to 1997.
Fashion house Burberry has collaborated with Apple. In September, Burberry was given iPhone 5Ss for a runway fashion show.
In a statement, Christopher Bailey, Burberry's chief creative officer spoke of "a mutual passion for creating beautiful products and unlocking emotive experiences through technology" and exploring the "merging of physical and digital experiences".
Bailey is said to be friends with London-born designer Sir Jonathan Ive, Apple's senior vice president of design, and is rumoured to have influenced the decision to offer a gold-look iPhone 5S.
And the ever style-conscious Apple is not the only tech firm with links to high fashion.
Fashion designer Diane von Furstenberg sent models down the catwalk at last year's New York Fashion Week wearing Google Glasses, giving people a chance to see what they looked like and also get a model's eye perspective.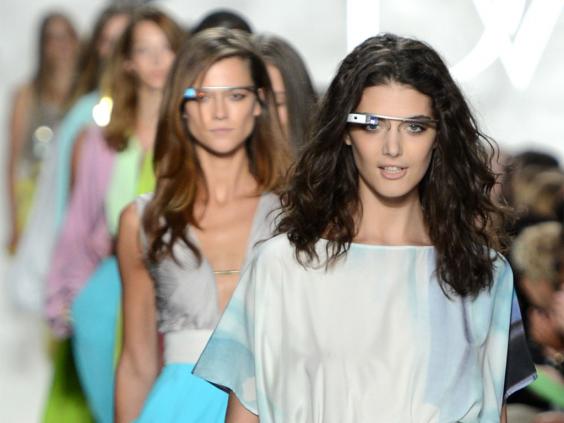 "I am so excited to introduce Glass to the fashion world and use this revolutionary technology to give everyone a unique perspective into fashion," Ms von Furstenberg said in a statement.
Yahoo's chief executive office, Marissa Mayer, is a dedicated follower of fashion and a step above those who exemplify "geek chic". She's appeared in Vogue magazine and is seen as someone who understands the importance of fashion and technology. She is also thought to be friendly with Sir Jonathan Ive.
Sportswear giant Nike is also has links with the tech world. Apple's chief executive Time Cook sits on its board of directors and was recently seen wearing an Apple iOS integrated Nike Fuelband, which tracks the wearer's activity and logs it electronically.
Profile: Face of fashion's digital age
Angela Ahrendts might be leaving Burberry for Apple come mid-2014, but given the fashion brand's digital prowess, and Apple's fashionable leanings, the move feels natural.
She originally wanted to be a designer, transferring her enthusiasm to the business of fashion at university and studying marketing and merchandising. In 1981 she began working with Donna Karan in New York. At Liz Claiborne, she helped build the Juicy Couture brand. She joined Burberry in 2006, where revenues increased almost three-fold, to more than £1.8bn, and stocks returned 300 per cent during her tenure.
Ahrendts has helped lead Burberry's digital march, including aggressive e-tail expansion and an impressive utilisation of social media.
Reuse content