New, ethnically diverse emojis have finally arrived on Apple's iOS, bringing to an end a keyboard of smiley faces almost entirely depicting white people.
The new keyboard comes with the iOS 8.3 update that was released by Apple last night. It allows for all the "people" emoji to have their ethnicity changed — a long press on any of the default yellow faces brings up a list of other options, allowing for people to select from one of five different skin tones.
Once a colour has been chosen, that will become the default ethnicity of that emoji. But it can be changed using the same long press any time.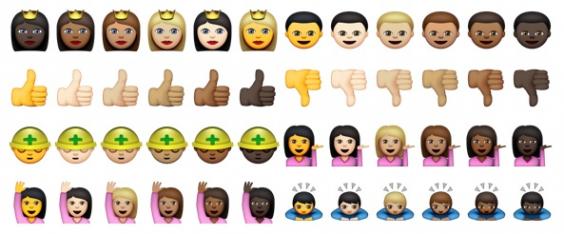 The update also brings performance fixes for wifi, Bluetooth, rotation, messages and family sharing, and new languages for Siri. Apple's update notes said that iOS 8.3 "includes improved performance, bug fixes and a redesigned Emoji keyboard".
The update can be installed by going to the phone's settings, and clicking on general. Choosing "Software Update" from that list will prompt the phone to download and automatically install the update.
If it's not already installed, the emoji keyboard can be added by going to keyboard settings on the general menu, and choosing "Add New Keyboard", where the emoji one can be found. That keyboard can then be accessed through the small world icon in the bottom left of the keyboard.
Apple said as early as March 2014 that it was looking to make the emoji more diverse, and has been working to improve them since. It said that it had been working with the Unicode Consortium, which manages the standards that make emoji work across platforms, to improve them.
Apple has previously moved to make its emoji more diverse by bringing in same sex couples, in addition to the hetrosexual ones previously shown. That has been expanded in this update, with same-sex families now included as well as the Apple Watch and flags from a greater range of countries.
The new emoji are also available in the new version of Apple's desktop operating system, OS X 10.10.3. That was also released last night and brings Apple's new Photos app, among other updates.
Reuse content