What does Nokia mean to you? Chances are one of your first mobiles would have been from the Finnish brand and if so it was probably reliable, well-designed and with a battery that lasted for ages.
True, there were occasional off-the-wall Nokias that looked like they'd been designed in clown school, with nuttily arranged keypads or preposterous shapes. But nearly every Nokia was a classy phone.
The company got left behind when Apple ushered in the bright new world of the smartphone. Apple pressed its advantage, as did Android phone makers, while Nokia flailed.
Eventually, it settled on making Windows Phone handsets and more recently Microsoft bought the handset part of the company, renaming it Microsoft Devices. So the recently released Lumia 735 turns out to be the last Lumia phone with the name Nokia in the title. Thankfully, it's a corker.
The design catches your attention first. Available in regular colours like black, there are also more daring hues like orange and green for the gloss-finish handset. Although it looks like one unibody machine, the back pops off to reveal the battery, sim card slot and memory card holder. But it's so well-crafted that when you pop the back on again it feels solid and is completely creak-free as you use it.
Turn it on and the display, though no match for the latest super-high resolution screens of the Samsung Galaxy Note 4 and LG G3, still looks very good – at 312 pixels per inch it's not far off the iPhone 6.
The simplistic icons of Windows Phone stand out well, and there are plenty of them packed into the home screen. Nokia's trademark features are all there. Like Here Maps and Here Drive + which turn the phone into a capable satnav, working without data connection to avoid roaming costs. It does this because unlike most mapping apps it lets you download country maps in advance, free.
Here remains part of Nokia so the company has now made the app available to Android phones with an Apple app on the way.
Nokia's cameraphone strengths were always cutting-edge and here there's a focus on selfies thanks to a five-megapixel wide-angle front-facing camera. The rear snapper is not much higher, 6.7 megapixels. Both are serviceable and have sophisticated but easy-to-use apps, Lumia Camera and Lumia Selfie. Overall, images are decent if not outstanding and the phone's cameras work better than many in low light.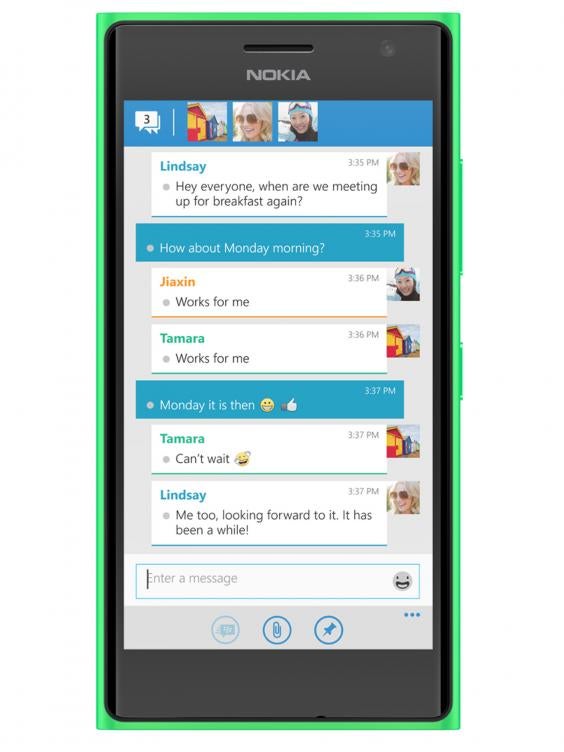 And as this is a Windows Phone 8.1 handset, it comes with Cortana, the skilled voice control feature that's soon to be seen in PCs as well as phones. Most of the apps you're likely to want are now on Windows as well. Not all, and sometimes you find yourself searching among a busy app store to tell dross from gold, but it's no longer the case that Windows Marketplace is missing the main-event apps.
Nokia has ensured the basics are covered, too, such as a battery that gets through a full day easily and excellent-sounding calls and signal quality.
Overall, this is a strong handset that sees the Nokia label going out on a high, matching decent usability and reliable efficiency with a good selfie camera. Plus, with Here Drive+ and other Nokia specialities, reasonable battery life and 4G connectivity, this is a phone that's exceptional value. And it looks smashing, too.
Reuse content