Traffic to porn sites Pornhub and YouPorn dropped massively during the Super Bowl — but then spiked again to way above normal levels for fans of the winning New England Patriots.
After the game, "New England fans took to Pornhub to celebrate the big win", Pornhub said. Traffic increased by as much as 33% in the hours after the game ended, before falling back in line with normal levels at about 1am local time.
While fans of losing team the Seattle Seahawks saw much the same drop in traffic, much fewer of them went back to the site after the game ended. Traffic only increased by 14% after the game ended, and decreased quickly soon after that.
Traffic from both of the regions involved in the game briefly went back up during Katy Perry's halftime show, before dropping off again when the last two quarters began.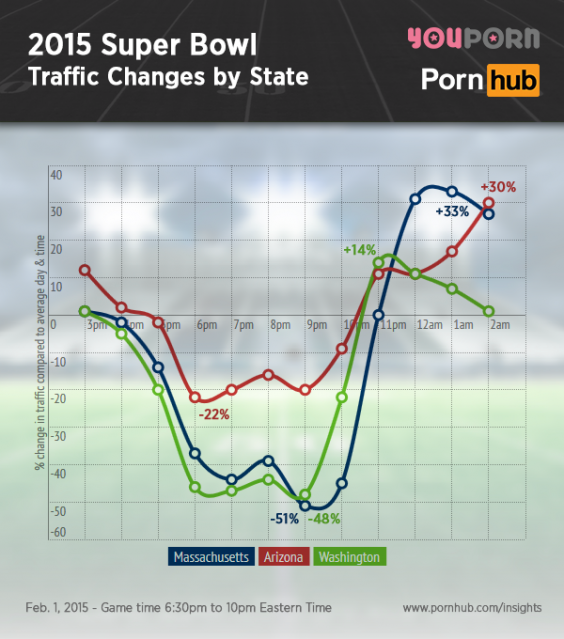 Even Arizona, which wasn't involved in the match but was hosting it, saw the same pattern. Traffic dropped just before kickoff and then recovered after the game.
The huge drop in traffic, followed by a massive spike, is the same pattern as happened during the World Cup and other big sporting events, Pornhub said.
It was also roughly in line with traffic patterns for last year's Super Bowl. But more people in Seattle, which won the game last year, stayed on the porn sites — while traffic to them dropped 61% at its peak fall last year, it was only down 56% this year.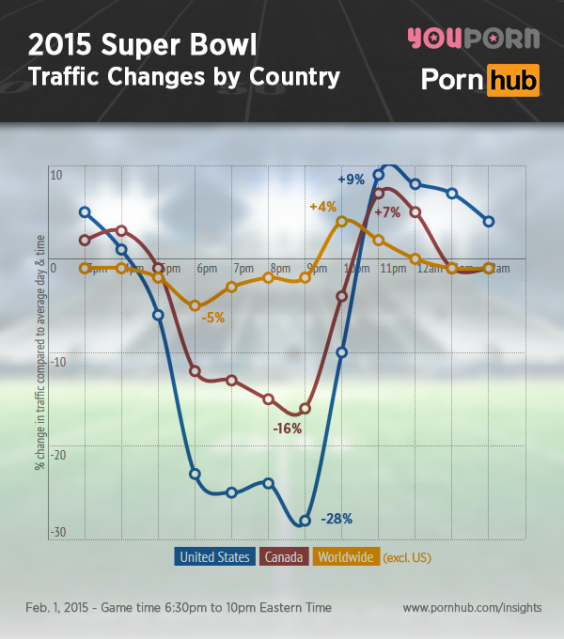 The rest of the world showed little interest in the Super Bowl — or stopping visiting Pornhub and YouPorn to watch it — with traffic "virtually unaffected" even at the times of the biggest lulls in the US and Canada.
Reuse content