Samsung will release two versions of its new flagship phone, the Galaxy S6, new leaked photos appear to show.
The new phones mostly resemble their predecessor, the Galaxy S5. They have a button at the bottom, and a thing bezel at the sides but a large one at the top.
The phone has long been expected to feature a curved screen that would reach around all three sides, but it has been unclear whether or not a version of the device without the feature would also be available. The leaks seem to confirm that there will be two versions of the phone – one called Galaxy S6 Edge and the other simply called the Galaxy S6. The two phones look almost identical from the back.
It's impossible to tell from the images whether the screen runs over three sides or just two, because of the angle that the photo was taken from.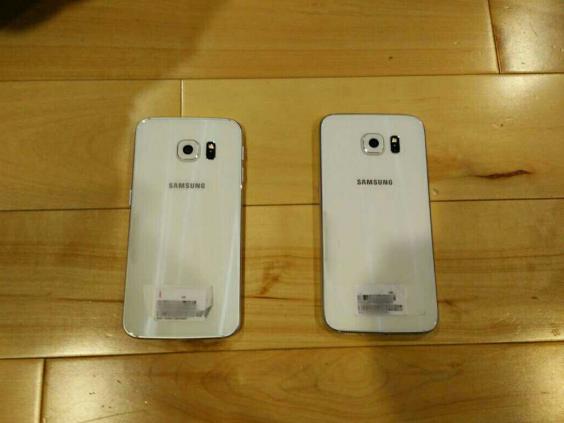 The curved screen was first debuted in the Galaxy Note Edge, which was also launched alongside a version of the phone that didn't feature it. That phone, larger than the Galaxy, was released in September.
The curved screen can be accessed when the main one isn't on, allowing it to be used to see the time and other notifications. It can also be used as a "ticker" while the main screen is running, adding extra information – though some have suggested its main use is as a ruler, with an app allowing the screen to be used to measure things.
LG is the only phone manufacturer to have similar features, with a "bending" screen that is featured on a screen that was unveiled at CES at the beginning of the year.
Reuse content