Samsung will be launching an Android-powered smartwatch named the Galaxy Gear next month, according to reports from Bloomberg.
The device is expected to be released on 4 September, and will be able to surf the internet, access emails, as well as make phone calls. It's expected that the Galaxy Gear will be announced alongside the forthcoming Galaxy Note III at an event in Berlin.
So far it seems that the Gear will act as a companion device rather than a fully-fledged replacement for phones; a decision that might be especially beneficial for phablet owners.
Using a device with a large screen when out and about can be difficult - thus LG's decision to place buttons on the back of its latest device.  Having a smartwatch to field incoming calls and emails and a phablet to use when sat down might represent a new paradigm for mobile computers, at least for a small section of the market.
Samsung produced its first smartwatch back in 1999 (below), following it up with a second 'push-button' attempt in 2003 and a third device launched in 2009 (top picture). This device, the S9110, had a 1.76-inch touchscreen, 40MB of internal memory, voice recognition and the capacity to sync email. It sold for €450 but failed to gain a foothold in the market.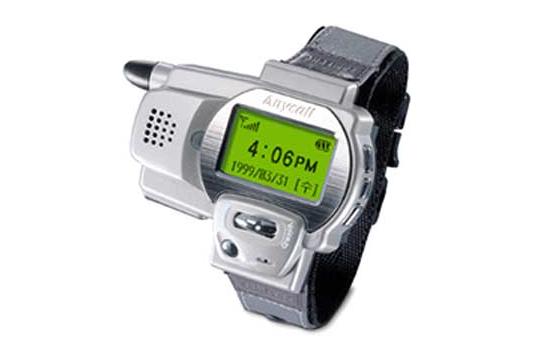 Despite the current vogue for smartwatches (pretty much every major tech manufacturer you can think of is building one) it's still not certain that the devices will be a success. Industry analysts Canalys are predicting that sales of the devices will shoot up, from 330,000 currently, to five million in 2014.
Bloomberg are similarly bullish, predicting that "the global watch industry will generate more than $60 billion in sales", and pointing out that a successful smartwatch that tied into a 'hardware ecosystem' could lock customers to a specific platform.
But apart from access to the internet, emails, calls and texts, the main draw of a smartwatch will be as a tracking device – offering various statistics that monitor the users' fitness . And with many popular hardware options already offering these services (the Jawbone Up, the Fitbit Flex, the Nike+ Fuelband) the market is already fragmented.
Sony's SmartWatch has so far underperformed, but this might be because the company lacks a popular smartphone to pair it with. Apple's forthcoming iWatch is supposedly facing difficulties in design, so Samsung will be the first major company to offer both watch and phone.Their success (or failure) will say a lot about the future of the industry.