Two years after the first Solar Impulse journeyed from US coast to coast, Swiss pilots Bertrand Piccard and Andre Borschberg aim to go one further — and take their solar-powered plane around the world.
It was announced on Tuesday that Solar Impulse 2 would start its 12-stop, five month world tour at the end of February or beginning of March.
The flight leaves from Abu Dhabi, and has planned landings in China, India, the US, and an as-yet undecided location around the Mediterranean.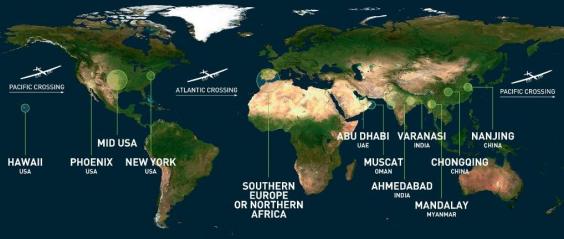 Travelling between 31 and 62 miles per hour, the pilot partners will be in the air for a total over 25 days.
Solar Impulse 2 has wings wider than a Boeing 747 Jumbo Jet (72m), but it's still lighter than even a family car.
It runs on thin-film solar cells, clean energy motors and super efficient batteries — so it doesn't just turn off when the sun goes down.
The plane is not commercially viable; everything is done with lightness in mind, so people carrying it doesn't do. There's only one seat.
Instead, this flight-around-the-world is intended to demonstrate that clean energy air travel is a possibility, with the pilots also acting as salesman on their dozen or so stops.
Pilots Piccard and Borschberg, the latter also an engineer, have flown solar planes before, with Borschberg in the cockpit in previous Solar Impulse missions in 2010 and 2012.
Together they flew Solar Impulse the first across the United States and overnight.
Borschberg came to the Solar Impulse project after spending two years as a Swiss Air Force fighter pilot.
Piccard, on the other hand, is what you'd call an air explorer, having pioneered ultralight flight in the 1970s and circled the Earth in a balloon in 1999.
Reuse content