If you're an ostentatious billionaire with money to burn then a private supersonic jet probably sounds like a good idea. However, makers of the Spike S-512 have announced that there's one thing that all that money won't buy: windows.
Spike Aerospace has announced that their flagship aircraft (the first private supersonic jet to go on sale) will feature a "revolutionary windowless passenger cabin" with the interior walls covered with thin display screens.
Cameras on the exterior of the jet will allow outside views to be beamed into the cabin, but passengers also have the option to select one of a number of panoramic scenes or simply dim the screens if they want to catch some sleep.
Spike Aerospace say that removing the windows will remove "significant challenges in designing and constructing" the fuselage of the jet, allowing for an aircraft that is more structurally sound and that has reduced drag thanks to a "smooth exterior skin".
World's first private supersonic jet will replace windows with giant screens
Plans for the S-512 were first announced last December, with its team of ex-Boeing and Gulfstream engineers promising that their craft will be twice as fast as commercial jets.
Travelling at a top speed of Mach 1.8 (1,370 mph) and a cruising speed of Mach 1.6 (1,218mph) the S-512 will take between three and four hours to fly from New York to London (around the same travel time as Concorde – another supersonic aircraft).
Spike is currently predicting that their jets will go on sale for $80 million in December 2018 but the concept of windowless travel willl become accessible to less well-heeled travellers sooner than that.
Last year, Royal Caribbean announced that its latest cruise ships will feature "virtual balconies" in cheaper cabins, replacing a section of the interior wall with an 80-inch LED projection screen showing "images of the ocean taken from elsewhere on the ship".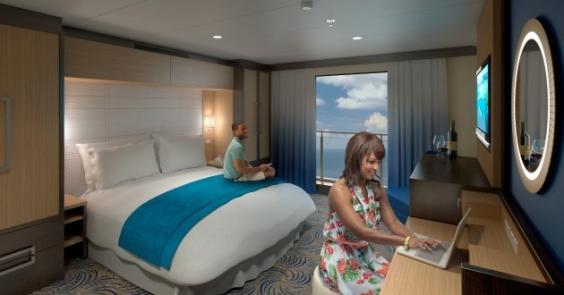 "Sail on the first ship to debut with virtual balconies!" says the company's official blurb. "Enjoy the sights and sounds of the sea with expansive real-time views of the ocean and our exciting destinations—all from the comforts of your interior stateroom."
Following this sort of logic, you could also buy an Oculus Rift and never leave your house in the first place.