Windows 8 was supposed to be the Microsoft operating system that moved users on to tablets and hybrid devices but it failed to take. Now, with the 8.1 update in the works, Toshiba are betting that Microsoft have got it right the second time round.
The Japanese electronics company announced three new computers this morning for Windows 8.1, including an 8-inch tablet, a tablet/laptop hybrid and a stand-alone laptop. All three have fairly middling hardware, but the $600 and lower prices tags (that's around £400) mean that Toshiba are targeting a wider range of the market, confident that Windows 8.1 offers the right experience.
First up is the Encore, an 8-inch tablet that weighs less than 500g and is designed to be held in one hand. The tablet features a multi-touch display with a 1280x800 resolution, and is powered by an Atom processor from Intel. This means that it won't be the most powerful small tablet by a long chalk, but it does beat the similarly priced Acer W3, which also uses Atom chips, but not the Encore's quad-core ones.
There's 2GB of RAM and 32GB of internal storage (expandable via microSD) and it also comes loaded with the full version of Microsoft Office Home & Student 2013 (something that retails by itself for £110). It probably won't be the nippiest tablet around, but at just $330 (around £210), it might help Microsoft put Windows 8.1 in more hands.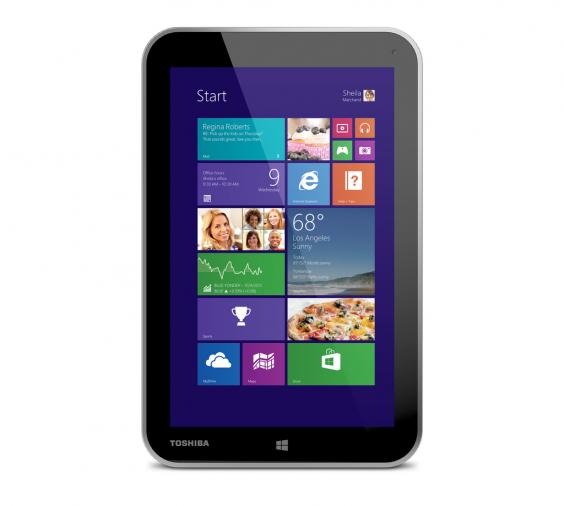 Next up is the most expensive of the trio – the $600 Satellite Click. Like the HP SlateBook we reviewed a couple of weeks back, the Click is both tablet and laptop, offering a detachable keyboard base and a 13.-inch 1366x768 screen.
Specs wise there's and AMD A4 processor (though that'll be an Intel i3 Haswell in the UK), 4GB of RAM and a 500GB HDD inside. A brushed steel look certainly makes it look pretty upmarket, but this is still most definitely a mid-tier device.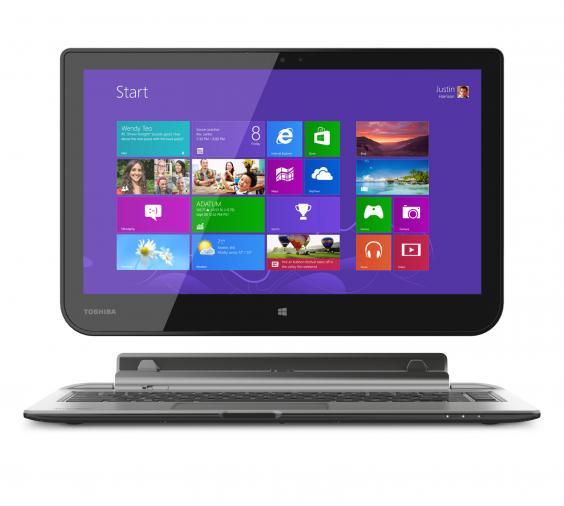 Last in Toshiba's Windows 8.1-a-thon is a vanilla 11.6-inch laptop, the Satellite NB15T. It's being described by the manufacturers as a 'clutch style' design, though really that slight attempt at marketing flair is as exciting as the NB15T gets.
There's an Intel Celeron processor inside, alongside 4GB of RAM and another 500GB HDD. A fairly ugly polycarbonate shell doesn't scream quality, but that's fine, because the $379 (roughly £250) price is too busy whispering bargain. It'll be interesting to see if any of these devices find a market, but it seems like they'll be dependent on the wider success of Windows 8.1 - something that's far from certain.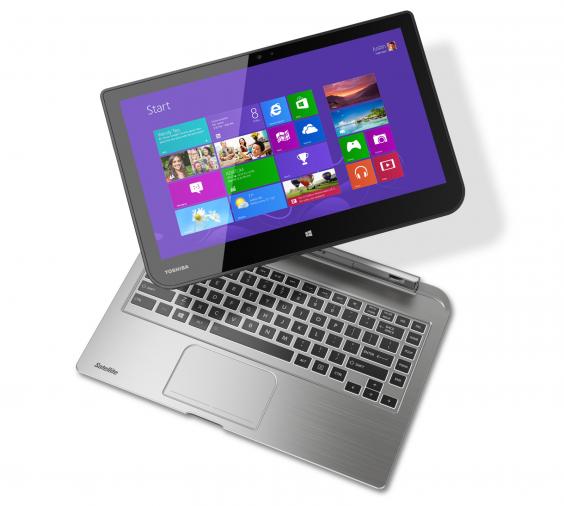 Reuse content