Twitter has launched a new feature that will allow you to catch up on tweets you might have missed, arranged like Facebook's news feed.
The "While you were away" feature was first teased at the beginning of the month, but has now been added to the social network's iPhone and iPad app.
It will be added to the Android app and the Twitter website soon, the company said.
The recaps allow you to catch up on the most popular tweets that have been posted since you last opened the app. It will choose the posts to show based on engagement — such as how often they have been retweeted, favourited or replied to — and other factors.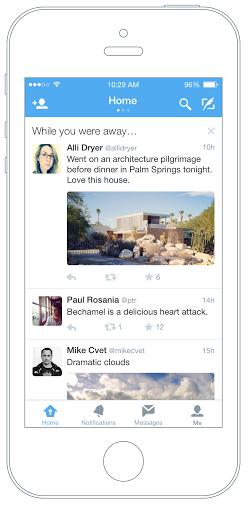 Twitter said that the feature had been created to help people catch up with what was going on "without compromising the real time nature of Twitter".
Since the feature was made to help people catch up, users that spend more time on the site will see it less, Twitter said.
Twitter first announced the feature in November, as part of a post announcing experimental changes to the social network.
It said at the same time that videos would soon be able to be uploaded directly to the site — a feature that is expected to be launched soon. It is also expected to launch an instant timeline, that will give people a ready list of people to follow in case they don't want to make their own.
Reuse content