You're more likely to associate the future of the car with companies like Google and Tesla, but who says you can't teach an old dog new tricks? To recharge their electric cars Volvo have designed a 'solar pavilion': a tensile membrane of solar panels that expands like a pop-up tent to recharge the car.
Although neither charger nor car (the V60 Plug-in Hybrid) are yet available for sale, Volvo will be showing off a prototype of the new design as part of their 'Switch to Pure Volvo' campaign – in other words, the pavilion remains a marketing ploy rather than a practical solution.
Despite this though, the solar pavilion is a masterful bit of design: the 'wings' of the charger are held in tension by a single carbon-fibre tube and the curves of photovoltaic panels ensuring that the sun's rays are caught from every direction.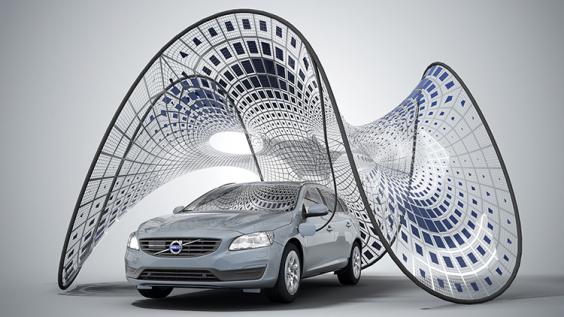 When unpacked, the pavilion envelops the car like a futuristic butterfly but the entire set-up weighs about as much as a tent, and packs down to fit in the boot of the car.
Synthesis Design + Architecture, the agency behind the design, claim it would take 12 hours to recharge a car using the pavilion, though its use (if it ever were to go on sale) would be limited. Not being able to use the charger overnight or even in a garage would be a frustration, though off-roaders heading out across open country might find a use for it. At any rate, it's an elegant (if impractical) solution to keep electric cars on the road and will certainly inspire future designers.
Reuse content