Electric cars will have a special lane on the motorway for re-charging their power levels, much like a classic Nintendo game where racers top up on speed.
Trials will take place later this year to develop a left-hand lane for drivers to swoop over and wirelessly top up their batteries while on the move.
The artist's impression of the bright green "re-charge" lane is an almost exact replica of the energy-giving lanes in Super Nintendo game, F-Zero, from 1990.
And the game seems to have unwittingly predicted the future, as experts say nearly every car will be electric or ultra-low emission by 2050 - meaning developments need to get under way.
At the moment the 2015 Nissan Leaf can travel 84 miles on a single charge, while the Tesla Model Scan do 230 miles with a 70 kWh battery.
Charging stations are few and far between in the UK, making it even more difficult to drive completely "green" - but if the motorway lanes are rolled out it will soon be easier to top up an electric car than a petrol or diesel one.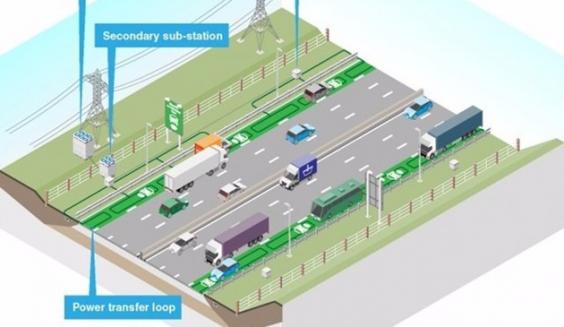 Andrew Jones, transport minister, said the government's body Highways England wanted to see the idea through.
"The potential to recharge low emission vehicles on the move offers exciting possibilities," he said .
"The government is already committing £500 million over the next five years to keep Britain at the forefront of this technology."
The idea is that power converters and stations will be connected to power transfer loops built into the left lane.
And if all goes according to plan, vehicles fitted with wireless charging technology will then be able to stay charged as they drive in the powered lane.
Trials for the technology are expected to start later this year, the government announced this month, and will replicate motorway conditions before being tried out on the road.
Reuse content