Nokia will produce its first smartphones running Google's Android platform just days before the Finnish company sells its handset business to Microsoft in a $7.2 billion deal.
Its first models – the Nokia X, X+ and XL smartphones, priced between £73, £81 and £90 - will be primarily aimed at customers in emerging markets, a key battleground for tech giants fighting to sign up the "next billion" smartphone customers (and therefore internet users) to their respective ecosystems.
To this end, the Nokia X will employ a customized version of Android that will act as a gateway to Windows Phone products. The handset's home screen will use a tiled interface similar to that found on the more expensive Lumia devices and Microsoft services such as Bing, Skype and Outlook will take the place of those offered by Google.
The X and X+ smartphones will feature 4-inch screens and mid-range specifications with the X+ offering more memory and expandable memory. The XL will offer a 5-inch screen and front and back cameras (5 megapixels and 2 megapixels respectively). The phones will include free music streaming from Nokia Music Radio, 10GB of free storage from Microsoft's OneDrive cloud service and 1 month free international calls on Skype.
The phones will not have access to Google's app store, Google Play, but will instead use Nokia's rival service where apps are tested and curated. Nokia have said that porting Android apps onto the three new smartphones can be achieved in a matter of hours.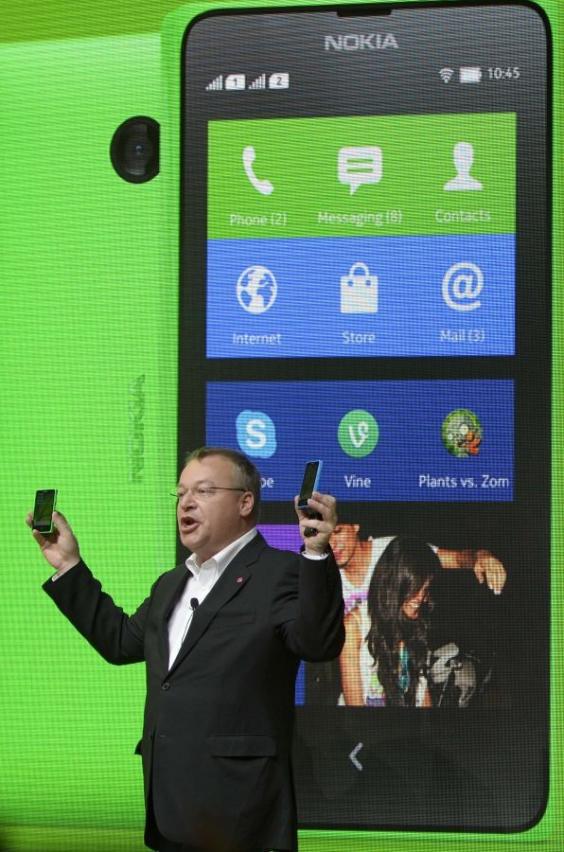 The announcement marks a major shift in tactics for Nokia and for Microsoft. When Nokia tied itself to the Windows Phone operating system three years ago it was thought that the company's high-end Lumia range of smartphones would challenge Apple's iPhone in the premium sector. However, with demand in this area shrinking and Lumia's handsets failing to sell in significant numbers it seems that the companies are instead shifting their attention to first-time smartphone buyers.
"This is a very rational move, and Nokia, unlike other struggling vendors, is taking whatever it takes to survive, even when it means to take a 180-degree turn on its strategy," says Francisco Jeronimo, Research Director of European Mobile Devices for market analysts IDC.
"Nokia is not growing as fast as they expected with the Windows Phone Lumia range; the Asha portfolio is not able to compete with the low-end Android devices on emerging markets; and Windows Phones aren't ready to address the ultra low-end price tiers, where the growth will be in the coming years, particularly in emerging markets. This new family of devices will address some of these issues."
However, Jeronimo notes that Microsoft is running the risk of "sending the wrong message to the market" by creating a new, unfamiliar operating system and capitulating to the strength of Android.
"After all there's no better recognition of failure then adopting the competitor's main product," says Jeronimo. "This strategy has the potential to give Nokia short-term results, but will it pay off in the long run? If the devices are extremely successful how will Nokia and Microsoft migrate those users, probably first-time smartphone adopters, to the Windows Phones?"