Sony has confirmed that its updated handheld gaming console, the PS Vita Slim, will be launching in the UK on 7 February for £180 with pre-ordering already an option.
The original console and its updated version (first launched in Japan at the end of last year) were applauded by critics but have failed to sell.
Sony's last sale figures for the Vita came out in January last year (4 million units since a December 2011 launch) and they pale in comparison to those released by Nintendo for the rival 3DS (42 million global sales since a February 2011 launch; figures released in December 2013).
With sales like this, and with even Nintendo (the king of handhelds) suffering badly, it might be that the PS Vita Slim is Sony's last ever mobile device.
The Japanese company is no doubt hoping to cash in on the barnstorming launch of the PS4 (Sony has sold as many PS4s in less than two months as PS Vitas in more than year), trying to reel in new gamers with the boosted functionality offered when the handheld and home consoles are linked up.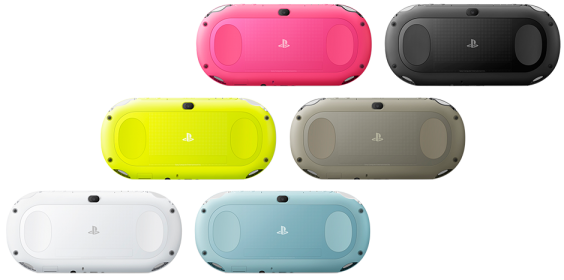 As well as offering gamers PlayStation Plus (Sony's paid-for subscription service that offers two free games per month) the Vita Slim also boasts Remote Play, a well-received feature that allows PS4 owners to stream games to their handhelds over Wi-Fi connections.
Compared to the original Vita the Slim has identical innards (an A9 processor, 512MB of RAM and 128MB of VRam) but is 15 per cent lighter, 20 per cent slimmer and has swapped the OLED display for an IPS LCD model.
This last change has annoyed some gamers as OLEDs are seen as visually superior to LCDs. However Sony says that there will be no noticeable difference between the two, and that the lower-powered LCD display will boost the Slim's battery life to six hours.
The Slim also comes with 1GB of embedded storage (meaning gamers won't have to immediately buy one of Sony's expensive memory cards) and uses a Micro USB charger rather than a proprietary charger.
All in all the Vita Slim is an extremely attractive gaming package at a price that would've seemed a bargain a few years ago. Although the recent launches of the PS4 and the Xbox One as well as the lure of cheap smartphone games have certainly taken the shine off dedicated handheld consoles - with the Vita Slim it's hard to understand why.
PS Vita: Best games
PS Vita: Best games
1/8 Tearaway

Lauded by gaming site IGN as the best Vita title of 2013, this is a paper-based platformer with unbridled imagination. It uses the Vita's front-facing camera and rear touch pad to put you in the game.

2/8 Persona 4: Golden

Offering a twist on traditional RPGs, this epic of a title (expect 70 to 80 hours of gameplay) is set within a Japanese highschool. Half your time is spent manaing personal relationships, the other half battling shadow monsters that live in TVs.

3/8 Hotline Miami

Proving that low-budget indie titles don't have to dial the 'charming' quota up to 11, Hotline Miami gives you top-down gore and plenty of it. Inspired by the low-key vibe of the Ryan Gosling-vehicle Driver, the original is already out but the second installment is also due some time in late 2014.

4/8 Spelunky

Although this dungeon crawler looks sweet (and is certainly sweetly animated) players must prepare for death. Each randomly generated level is stuff fulled of skeletons and boobie traps and you will die, again and again. The magic is that the smooth mechanics and controls keep you coming back for more.

5/8 LittleBigPlanet PS Vita

LittleBigPlanet was one of the biggest hits on the PS3, and transposing Sackboy and his physics-based gameplay to the Vita does not mean the charm is diminished. Arrange ropes, pulleys, platforms, boxes, sheets and, well, anything that comes up to make your way through the campaign or create your own challenges.

6/8 Guacamelee!

Drawing its inspiration from Mexican culture as well as classic like Metroid and Zelda, Guacamelee offers side-scrolling adventure action as you battle baddies in multiple dimensions with good, old-fashioned piledrivers and suplexes.

7/8 Gravity Rush

The main mechanism in this open-world adventure game is the hero Kat's ability to re-orientate gravity, resulting in gameplay that can be both disorientating and exhilerating in equal measures. Flip gravity to battle monsters or just zoom around the world.

8/8 Assassin's Creed III: Liberation

Taking the same 18th-century feel of AC: 3 but transporting the action to New Orleans and introducing the first female protagonist to the Assassin's Creed sereies, this installment may have a rather aimless plot, but the fun of exploring cities from the roof top is not lost on the Vita.
Reuse content