Twitter has announced that its extending its 'hashflags' feature (those mini icons activated by a country's three letter code) with two special icons for #Ramadan and #Eid.
Users who include these hashtags in their tweets (in either Arabic or English( will see a crescent moon or a piece of calligraphy appear alongside their message.
Ramadan is the ninth month of the Islamic lunar calendar during which some 1.5 billion Muslims around the world fast during daylight hours. Eid al-Fitr (otherwise known as the 'festival of breaking of the fast') is a feast at the end of Ramadan that concludes the thirty-day fast.
A blog post from Twitter announcing the new icons  estimated that around 74.2 million tweets were sent during Ramadan last year, with the site's data team saying that in the US, the "long summer days mean that people often tweet about how hungry and thirsty they are during Ramadan" while in the UK the word "happy" is most common.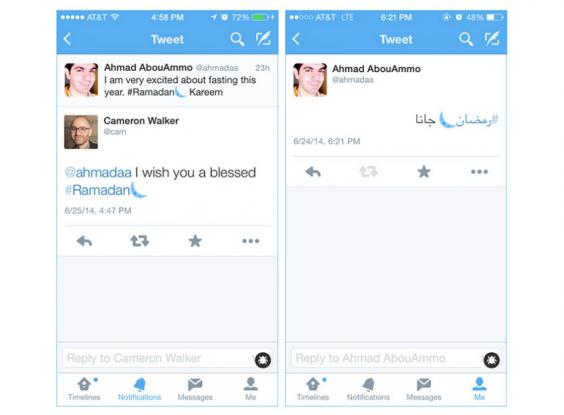 Twitter has also teamed up with Arabic news channel al Arabiya in order to help users find out what time their fast begins and ends each day where they are.
Video: How Muslim Londoners prepare for Ramadan
All users need to do is tweet at @AlAribya with the name of their city and either the hashtag #iftar (for the end of the fast) or #imsak (for the beginning) and the account will reply with the right times for their location.
Reuse content