Wearable tech is going to be big this year. Most of it measures activity, such as the Nike FuelBand SE and Jawbone Up – the two best of the many fitness monitors available.
Then there are the multi-tasking companion gadgets like the Samsung Gear 2, the newly released smartwatch that also works to make and receive calls, working in conjunction with a  Samsung smartphone. This has some fitness monitoring capabilities.
But Samsung last week launched another wristband which, I'd say, was the real star of the Mobile World Congress. The Gear Fit is a slim, lightweight wristband with a gloriously bright OLED colour screen that's curved and just 1.84in across the diagonal. And it's really light – just 27g with a thin wrist strap that comes in various colours and can be swapped easily.
Though it's small, the Gear Fit is big enough to show the time – even if you choose to display it in words so it boldly says "Afternoon Four Fifteen" which looks particularly eye-catching.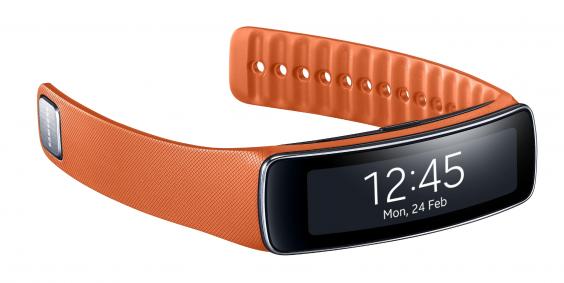 You can even design your own wallpaper for the background image on the screen. You take a photograph on your Samsung Galaxy smartphone and transfer to the Fit. Handy if you want it to match your paisley shirt, say.
But it'll also show steps taken, along with other fitness measurements. And this includes your heart rate, thanks to a heart sensor on the Gear Fit. It'll also measure your movement as you sleep (though this function will come later) and work as a stopwatch or timer.
If your Samsung smartphone is nearby, the Fit can also display details of messages and calls as they come in, though there's no microphone to answer or make calls on this gadget.
It's lightweight (just 27g), solid, comfortable and unobtrusive. It's true that to read the screen you need to hold your arm out in front of you instead of the more traditional position for a watch, that is, across your body, but this is a small criticism.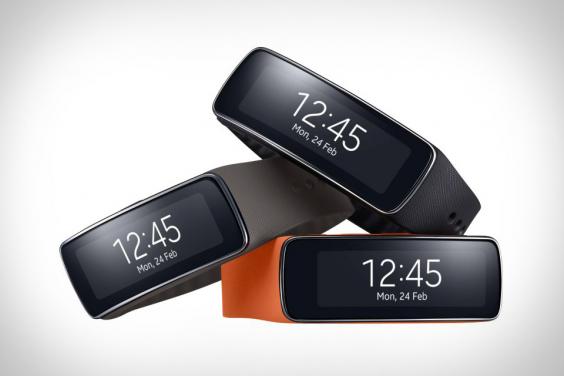 This could be a big success for Samsung, especially if the company looks beyond the obvious compatibility and makes it work with other Android smartphones besides Galaxy models. And if they took a bigger step and created an iPhone app as well, it could really cause a stir.
When Sony released its lens style camera, the QX10, it made it iPhone-compatible. There were extra functions for Android users thanks to the extra connectivity of NFC – a feature absent from iPhones. It meant this unusual camera had much wider applications. Samsung should make the same bold move with the Gear Fit.
It's out next month, price to be announced.