Photo-sharing app Snapchat made its name through the introduction of self-destructing messages, but its latest update offers a more permanent way to share with friends. However, the update isn't just a mini-feature: it might even challenge Facebook's newsfeed.
Snapchat Stories offers users the option to add their snaps to a mini-album that displays next to their username, creating rolling-news style montages built from snaps taken by users in the last 24 hours.
Unlike regular messages Stories can be viewed as many times as desired, with their content continually fluctuating. As soon as an image or video becomes more than a day old, it's bumped from the list – and snaps aren't added to users' Stories automatically, so the app can still be used to share images privately with friends.
Announcing the new feature on their blog, Snapchat said: "Your Story never ends and it's always changing. The end of your Story today is the beginning of your Story tomorrow. And each Snap in your Story includes a list of everyone who views it."
The update will be rolling out on iOS and Android devices simultaneously, with several tweaks also made to the app's user interface (including an animated Ghostface Chillah – Snapchat's mascot – who dances when users update their feed).
As of July 2013 Snapchat has been valued at more than $800 million, despite only being released in September 2011. This valuation is certainly backed by user figures though – around 350 million snaps are sent each day over the service.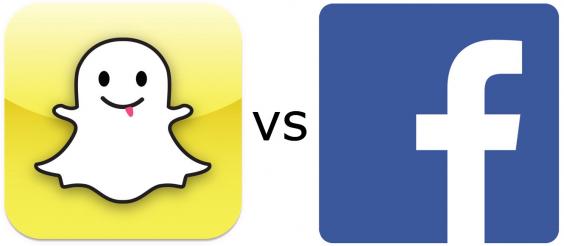 Snapchat vs Facebook: how do you want to share?
Although this update to Snapchat doesn't quite put the app on an equal footing with Facebook when it comes to functionality (message, events and the like are still big draws) it does represent a challenge to Mark Zuckerberg's social empire.
Snapchat's growth has been phenomenal, with many crediting its popularity to its ephemeral nature – with snaps disappearing there's far less pressure to maintain a public image and its users (predominantly aged 13-23) don't have to worry about being embarrassed by updates later on. This is not to say that its privacy is perfect - there are many ways to save snaps - but that it inculcates a different mindset to how people share.
With Stories Snapchat is introducing a rival to Facebook's News Feed, the key Facebook product. Stories is a way to passively share with friends what you've been up to recently (updates aren't sent to users' phones – you have to check them for yourself) with the feed acting as a rolling-news segment rather than an archive; users can share updates and not worry about, say, future employers blanching at that picture of them with a beer bong.  
The update also offers a possibility for monetization – something that Snapchat has been ignoring in favour of growth (a tradition among tech startups). As a feature by The Verge has suggested, there is a possibility for Stories to open up the platform to celebrities and brands, giving them a chance to broadcast a live-feed of their life, much like Instagram has achieved.
Although Snapchat may still get most of its press attention mainly thanks to hysterical press coverage over sexting, the above factors –monetization and the possibility of 'live-feeds' – mean that the app is a serious prospect, perhaps even representing the future of the social network.
Reuse content