SpaceX, the private aerospace company founded by billionaire Elon Musk, has unveiled its latest craft: a reusable shuttle capable of taxiing astronauts to and from the International Space Station (ISS).
The unveiling of the Dragon V2 marks an important milestone not only for SpaceX but for the private space industry as a whole.
Although several companies have transported goods to the ISS, the Dragon V2 is likely to be the first to carry human cargo – an important step for Nasa, who currently rely on Russian-built Soyuz rockets since the retirement of the Space Shuttle in 2011.
The Dagon V2's other distinction is that it's reusable, with Musk saying that the craft can fly ten times in a row without needing to be serviced, and that it will be capable of using propellants and laser guiding to "land anywhere on Earth with the accuracy of a helicopter".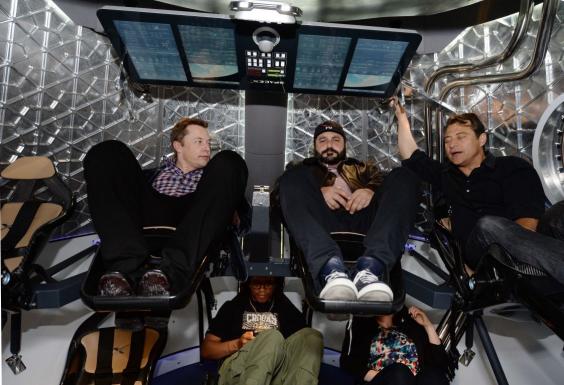 "It's all around I think a big leap forward in technology," said Musk at an unveiling on Thursday. "As long as we continue to throw away rockets and spacecraft, we will never have true access to space. It will always be incredibly expensive."
So far, SpaceX has completed three of its 12 scheduled missions to deliver supplies to the ISS as part of a $1.6 billion contract with Nasa. This included the first ever connection between the orbiting laboratory and a private spacecraft back in 2012.
However, all of these previous missions have been unmanned, using the company's robotic Dragon spacecraft. The Dragon V2 will instead be piloted by a seven-person crew, and is planned to make its first trip in 2017 or 2018.
The craft stands 15 feet high and uses touch screens to replace the usual mass of wires and buttons. Musk described it as a big leap forward for space technology, although rival craft are being developed by other private companies including longtime Nasa-contractor Boeing.
Reuse content