Do you think your friends on Facebook are judgy? They've got nothing on marketers, who will pore over the language you use on social media in order to work out exactly which adverts will best grab your attention.
Usually this sort of analysis happens behind the scenes but a new online tool based on a sociological study from 2012 allows you to apply the sort of mechanisms used by companies like Facebook and Google to your own online presence.
Click here to try out the tool
Created by a start-up named Five, the website connects to your Facebook account and filters through your past statuses to determine how you fit with five personality traits: extraversion, agreeableness, conscientiousness, neuroticism and openness.
Each attribute is linked to clusters of words and emoticons which were first defined by the academic study carried out by the University of Pennsylvania. Researchers compared personality questionnaires filled out by 75,000 volunteers with some 700 million words and phrases from their Facebook accounts in order to find which linguistic patterns best matched certain traits.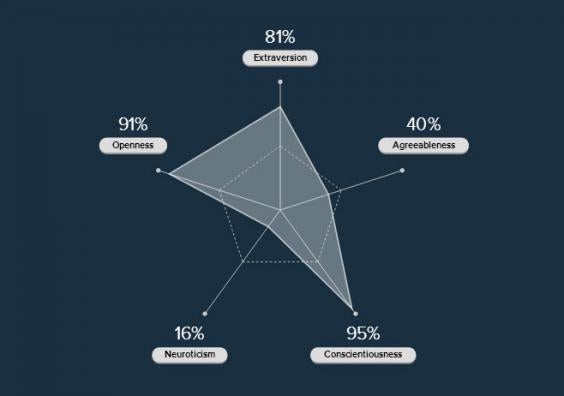 Most of the correlations aren't too surprising, with individuals who used words like 'party', 'excited', 'weekend' and 'love you' associated with extraversion while swear words and phrases like 'sick of' and 'why do I' were more likely to be used by neurotic individuals.
Nikita Bier, the co-founder of Five, told the New York Times that based on responses to the site (via Twitter, naturally) people were quite happy with the personalities they were identified as. "Only about 10 per cent said we were outright wrong about them," said Mr Bier.
"The predictive qualities of the five types are good for advertising," Mr Bier explained. "People who are more open go to coffee shops, and have interesting apartments. You might want to give them an ad for Ikea. Neurotic people worry about their health, so you might pitch them vitamins."
The app also lets you compare your profile to certain well known social media users - including Barack Obama, Bill Gates and Mark Zuckerberg. Although high profile individuals like these tend to polish their online utterances to an un-human sheen (Mr Obama's '95 per cent conscientious' sounds very presidential) it's true we're all guilty of making similar calculations to at least some degree. Or, at least, that's what my 65 per cent neuroticism is telling me.
Reuse content